18 Mar 2021
Groundbreaking wellness and vital sign monitoring solution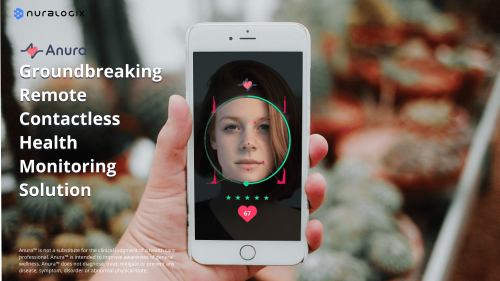 NuraLogix recently attended 2021 Health Plus Care Online, where Valerie Lasry, our Director of Sales, EMEA & LATAM, presented on Anura™, our groundbreaking, contactless, vital sign monitoring solution.
Fast, accurate, and contactless, Anura™ has revolutionized the ability to measure and track general health and wellness. Our Affective AI-based technology allows you to measures physical, physiological, and psychological indexes, including blood pressure, heart rate, stress levels, BMI, and cardiovascular disease risks. Results are recorded with medical-grade accuracy (based on research and clinical studies), without the reliance, expense, or nuisance of cuffs or other external devices.
Through a 30-second video selfie, Anura™ uses machine learning algorithms to extract facial blood flow information to model desired psychological, physical, and physiological indexes. For personal use, Anura™ is available for free on the app store. As a corporate solution, Anura™ can help drive client acquisition and retention by providing a full 360-degree health and wellness solution.
Our app can be obtainable through a Software Development Kit (SDK) and white-labeled into enterprise solutions, making Anura™ the perfect integration to existing digital health platforms. Once integrated, allows users to:
Easily track granular health and wellness data over time
Monitor key vital signs and wellness information such as health risks and blood biomarkers
Capture results using various devices and platforms
Anura™ offers a versatile solution with endless application possibilities, with cutting-edge applications for industries like telemedicine, insurance, corporate wellness, and more! If you missed her at Health Plus Care Online, Valerie Lasry is available for one-on-one demonstrations. Learn more or schedule a demo with Valerie today.
ABOUT NURALOGIX
Nuralogix is a research-based tech company that currently holds multiple patents and has conducted global clinical and research collaborations. Additionally, we have been featured in over 100 international media reports, as well as peer-reviewed papers and publications, including American Heart Association, Frontiers in Psychology, Scientific Reports, Springer Science, and The International Journal of Clinical Practice. Founded in Toronto in 2015, by Marzio Pozzuoli and Dr. Kang Lee, we have raised $20M+ in funds and currently employ 60 staff, ranging from neuroscientists to software engineers. For more information, visit www.nuralogix.ai.
DISCLAIMER
Anura™ is not a substitute for the clinical judgment of a health care professional. Anura™ is intended to improve awareness of general wellness. Anura™ does not diagnose, treat, mitigate or prevent any disease, symptom, disorder, or abnormal physical state.