18 Mar 2021
Health Plus Care Online surpassed expectations as it welcomed over 3,000 attendees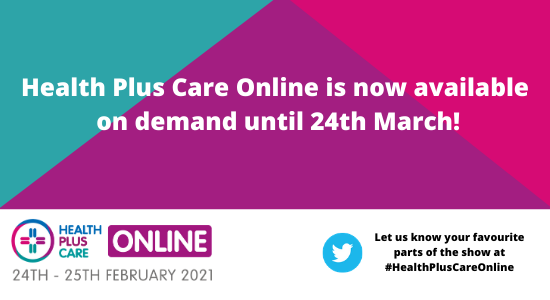 3,000 healthcare professionals registered for Health Plus Care Online, the UK's leading event for the entire health and social care community, which took place on the 24 & 25 February 2021.
The free-to-attend event for all healthcare and care professionals included over 70 expert led presentations and 22 industry exhibitors.
CloserStill Media, organisers of Health Plus Care Online, wanted to create the perfect adaption of their in-person show, delivering a seamless event experience – but online, so attendees could participate from the comfort of their own homes and offices.
Keynote session speakers included: Stephen Powis, National Medical Director of NHSE, Lisa Emery, Chief Information Officer at The Royal Marsden Hospital, Matthew Gould, Chief Executive Officer at NHSX and Dame Donna Kinnair, Chief Executive and General Secretary at The Royal College of Nursing.
The Health Plus Care Online programme was structured by 4 Streams/Theatres, highlighting the different sectors in health and care.
The Re-imagining Innovation & Delivery Stream brought to attention the findings and recommendations from a new AHSN Network report, offered an International perspective from Dr Fazilah Shaik Allaudin, Ministry of Health, Malaysia and provided clinical updates from National Clinical directors and NHSE Advisors including Dr Shahed Ahmad (CVD) and Prof Partha Kar (Diabetes).
In The Digital Transformation Stream, the vision for digital within the NHS Long Term Plan was touched upon as speakers focused their talks on remote consultations, new digital workforces and considering the benefits of a centralised data source within the healthcare industry. Some sessions were led by Google Cloud, NHSX, Chime International and Nuralogix.
The Residential & Home Care Stream covered the role of commissioning, technology, and the new Integrated Care Systems in progress alongside providing attendees with more information on how to support and initiate personalised, high quality standards of care.
Finally, there was The Patient Safety & IPC Stream which included, 'Current patient safety issues, challenges and opportunities', 'Supporting the patient journey through real-time information and data' and 'Staff Safety and Wellbeing'.
The feedback received so far has been extremely positive. Below are some testimonials from both exhibitors and delegates about their Health Plus Care Online experience:
"Massive thank you to everyone involved for a fantastic two-day event. It has been a very informative, inspiring time listening to all the speakers. Once again thanks for a brilliant event."
"It was an excellent series of events over the last two days. You provided a hugely valuable set of sessions that I personally enjoyed immensely."
"I was very impressed with the quality of the platform and how well the technology worked."
"I thoroughly enjoyed the Health Plus Care Online 2021. The virtual event platform made it really easy."
"A great opportunity to engage and promote patient safety improvement. Valuable to hear from front line experiences as well as experts."
Health Plus Care Online will be available until 24th March for all registered attendees to watch sessions back on-demand. Those that have not registered yet, can do so here to access the content: https://bit.ly/3b8I5mE
-ENDS-
CloserStill Media, specialise in global professional events within the healthcare and technology markets. The healthcare portfolio includes some of the UK's fastest growing and award-winning events, such as Best Practice, The Clinical Pharmacy Congress, The Dentistry Show, The Care Show and Acute & General Medicine.
It is a market leading innovator. With its teams and international events, it has won multiple awards, including Best Marketer – five times in succession – Best Trade Exhibition, Best Launch Exhibition, and Sunday Times Top 100 Companies to Work For – four years in series – among others.
CloserStill Media delivers unparalleled quality and relevant audiences for all its exhibitions, delivering NHS and private sector healthcare professionals from across occupational therapy, pharmacy, dentistry, primary and secondary care with more than £16m worth of free training.
For more information please contact:
Exhibition and speaker enquiries: Lee Davies – lee.davies@closerstillmedia.com
Marketing enquiries: Shannon Cargan - s.cargan@closerstillmedia.com