04 Oct 2020
Matt Hancock reassures public that Covid-19 vaccine will only be given once it is safe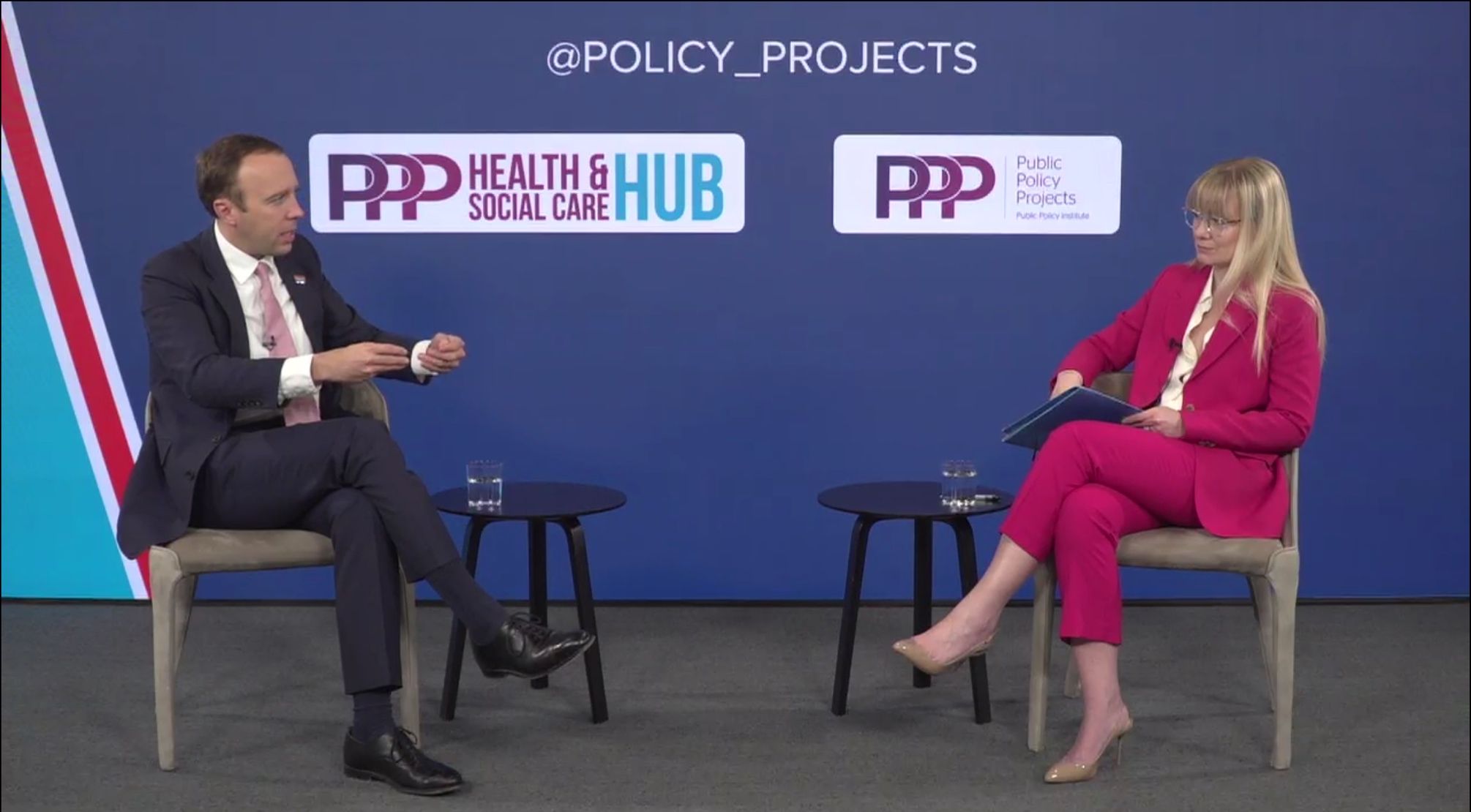 Integrated Care Journal
The Baroness Blackwood of North Oxford, Co-Chair for Healthcare and Life Sciences at Public Policy Projects, who interviewed Mr Hancock, covered a broad spectrum of topics, focusing particularly on the pandemic and digital health, a field Mr Hancock is known to be passionate about. Opening with AI and closing by asking what the Health and Care Secretary is most proud of from his time in the post, Baroness Blackwood drew out Mr Hancock's enthusiasm for telemedicine, remote patient care, population health data and digital workforce tools.
"I care about technology because I care about people," emphasised Mr Hancock, drawing the link between innovative digital tools and improved patient outcomes. The Government has invested £215 million in the better use of AI, he said, citing the benefits for cancer screening, an area of particular focus at this year's Conservative Party Conference. "There is no way we could have responded to the pandemic as we did without modern technology," The Health Secretary proclaimed, adding: "One of the benefits of coronavirus is that we have been able to make an argument about the use of technology in healthcare that needed to be won, and has been won. "
Speaking about the introduction of recent restrictions, the Health Secretary praised local lockdowns for bringing case numbers down, adding: "it is not yet under control, but it needs to be. " When challenged on the impacts that restrictions are having on those statistically less vulnerable to Covid-19, he said: "I am a great believer in people being free to act so long as they don't harm others. "
Covid-19 Vaccine
Matt Hancock could barely suppress his enthusiasm about the prospect of a vaccine for coronavirus. "We have bought 6 different vaccines and not put all our eggs in one basket," he said, driving home the importance of developing and distributing a vaccine safely. Expressing the seriousness with which the Government is taking the safety of the vaccine, Mr Hancock referenced the "world-class" MHRA and the willingness of government to pause clinical trials until the safety of participants is guaranteed. All of this, he suggested, is crucial to public uptake once a vaccine is developed.
Responding to a question on vaccine roll-out from Baroness Blackwood, the Health Secretary said while the most vulnerable will receive the vaccine first, people need to know that they will receive it when it is "clinically right. " With the annual experience of rolling out the flu vaccine, Mr Hancock sought to reassure onlookers that the Government is more than capable of administering this effectively. Meanwhile, addressing concerns that public trust and anti-vaccine messaging could damage uptake, the Health Secretary expressed his confidence in the NHS brand and the media, which he believes are "hugely responsible on this agenda. " Where 'misinformation' online is concerned, there is "huge amount" of work being done to tackle this, he added.
Prevention and restarting services
Questioning the Health and Care Secretary on the uneven impacts of the pandemic, Baroness Blackwood asked the Health Secretary about his priorities in dealing with a second wave. "The critical underlying thought here is that we make sure the NHS is here for everybody," he responded. To ensure this is the case, services need to be restarted in a safe and sustainable way. The Secretary of State expressed the importance of restarting clinical trials for the long-term as soon as feasibly possible. With the funding already in place, he was keen to focus on the opportunity presented by the strategy of splitting the NHS into green (Covid-secure) and blue (Covid-treatment) sites.
With a growing focus on the upstream factors contributing to Covid risk, Baroness Blackwood challenged Mr Hancock on another popular topic of the PPP Health and Care Hub – prevention. Once again drawing the conversation back to technology, Mr Hancock, said it was a "good thing" for people with an interest in their health to get more transparency through better and more available data. Addressing the question head-on, he asserted that the direction of travel should be to give people greater responsibility for their own health. Through this, he said, we will move from a health service of prescription to one where people engage in their own health through prevention.
Workforce
Responding to a question about staffing in his earlier interview in the main auditorium, Matt Hancock directed Baroness Blackwood to the progress being made in recruitment. There are 14,100 more nurses in the NHS compared to last year and already over 6,000 new doctors, he said, mentioning how the pandemic has benefitted efforts to get new staff into the NHS.
"So much of what is important is how you are valued in the workplace," said Mr Hancock, responding to questions about the recently launched NHS People Plan and the wellbeing of health and care staff. "In the peak of the pandemic, we brought in a mental health support line for all NHS staff. I have been trying to get that going for 18 months. The pandemic required urgency. That will stay for good," he added. The Health Secretary also reinforced his ambition that healthcare staff continued to be upskilled digitally, to ensure that investment in technology actually leads to better outcomes.
Following the interview, Public Policy Projects Co-Chair for Healthcare and Life Sciences Baroness Blackwood of North Oxford said: The Secretary of State has a passion to drive digital innovation, which he has demonstrated through his response to the pandemic, in the long-term transformation of health and care services. While there is much to be done to address the upstream causes of poor health, this strategy, alongside better use of data, restarting clinical research and continued support for the health and care workforce is exactly what is needed to drive improvements in patient outcomes."