05 Nov 2020
100th birthday celebrations for Swansea care home resident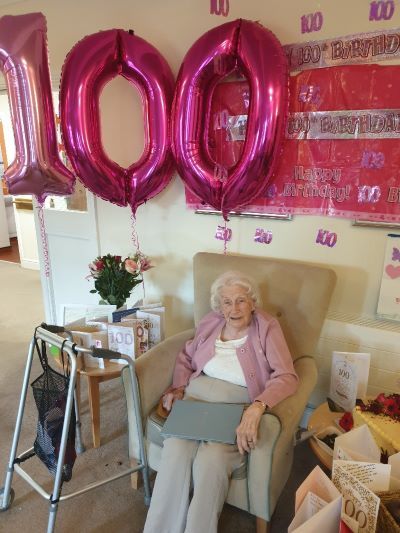 On the 8th October 1920 Eira, one of the Residents at the Swansea home, was born and is celebrating her 100th birthday.
Eira was born and raised on Crown Street, Morriston, living in Swansea all her life. Eira was married to William Evans when she was 25 years old, and she spent many years working in a clothes shop in Morriston.
Eira loves to spend her time knitting, reading and spending time with her family. Eira's daughter Carol lives in Australia with her two children, and two grandchildren.
When asked what the secret to long life is, Eira commented "keeping active is the key to long life."
Unfortunately no Relatives attended the home due to the current situation with the pandemic, however Eira had numerous zoom calls with all her Relatives at home in Swansea, and those over in Australia.
Eira received lots of cards, balloons, presents and flowers from all her friends and family. She also received a cake from her best friend Beryl, and the home organised a tea party for the afternoon so everyone could celebrate this very special occasion.
Eira also received her telegraph from the Queen and can be seen with her card in the photo. The other book was a hardback book created that contained lots of photos of Eira growing up.
Overall it was a lovely day and the Colleagues at the home made sure it was as wonderful as possible.
Founded in 2011, HC-One is 'The Kind Care Company' who work with Colleagues, Residents and Relatives as they strive to provide the kindest care. They promote positive wellbeing, creating individual plans for Residents that support the mind, body and soul.
HC-One's St Martins is a purpose-built home offering residential and nursing care.
For more information, or to view the home, visit www.hc-one.co.uk or call 0333 999 8525