05 Nov 2020
Are digital solutions the new era of care?

I believe there are many factors in the changing models of social care we are currently experiencing.
The COVID19 pandemic response alongside forthcoming winter pressures are set against a back drop of over 10 years of austerity in public funding and increasing thresholds for those citizens within our communities wishing to access care and support. The concept of a transforming era for care is coalescing into a perfect storm of rapid digital adoption within many types of more traditional face to face services.
These provisions of digital solution must be recognised as a means to enhance support services for many providers. Compare with your everyday use of technology; you switch as something more suitable to your lifestyle. For example, instead of visiting a bank, people moved to making transactions online, and then via an app on their phone. But it's not to say, they still can't go into the bank or go online.
This is the same with digital adoption in the care sector. While maintaining a human centred approach to digital tools, (for example, an electronic care record, a mental health support application, the online coffee and chat session), you can deliver solutions which ebb and flow throughout a person's daily lifestyles and wider community activities.
What we can say for certainty is they offer flexibility to plug an essential gap whenever and wherever a person may be.
Sometimes we have an inbuilt sense that older people in particular or those more marginalised in our communities are digitally naive. In my experience this is a myth; while economic or other factors may mean an individual does not have access to the latest tablet or smartphone, it does not mean that they are unable to work with it once you provide it. With the right support, technology is as intuitive for an 8-year old or an octogenarian!
At Age UK Lancashire we are constantly reviewing new technologies throughout our entire care delivery; the pandemic lockdown opened the door to both service redesign and participants' willingness to include new digital solutions within the varied aspects of their care.
Continuity of care
This did not come without some teething pains along the way. For starters, we had to move almost all staff to home working on creaking infrastructure. While our senior leadership team had already identified system upgrades were needed, we were forced to connect with the right solutions to underpin our organisation in a timeframe that historically would have taken a year or more.
However, we were incredibly fortunate to be donated a server by Exertis so we could migrate our staff along with finishing our implementation of office 365.
Keeping the connections
When it came to supporting our clients, with a most generous support of Softcat digital tablets, we were able to connect clients with loved ones and support networks. Some of the stories are truly heart-warming: One lady was delighted to join Zoom family group chats and learn, face to face she was about to become a great grandmother.
Special support
Lockdown and social distancing has had serious implications for people living with dementia, with carers struggling to cope with exasperating behaviours. To bring families and support volunteers together we launched fortnightly Zoom Dementia Support group. This have been invaluable at helping people access services from local organisations such as the local Alzheimer's Society and Lancashire Carers.
To bring people together further, our 'Art of isolation' project enabled people to digitally connect in an artistic way. From drawings and paintings to photography, short stories and films, the final virtual exhibition aims to create a historical record of how Lancashire's older residents have responded and adapted to life in lockdown.
Keeping people safe online
Safeguarding is paramount, and we have worked work closely with vendors of all aspects of the solution architecture to ensure all are protected both on and offline for way beyond COVID.
As an organisation we have spent time developing policies and training for our staff that ensure we keep people safe in both the real and virtual worlds.
Even before the pandemic a diverse team of clinicians, social care colleagues, technologists and project managers at NHSX had been working to improve access to the internet in care homes and had negotiated a range of connectivity offers to help staff in care homes and their residents to stay connected.
We now call upon the government to extend its aims to ensure that "every home" can access "gigabit-capable" broadband by the end of 2025, and make this happen at the earliest opportunity.
What we at Age UK Lancashire been able to understand first hand and develop is a digital response that is both inclusive and takes account of peoples' human rights.
Digital rights include access to accessible and affordable internet. We know what a difference this would make to services providers like ourselves and all our citizens who may be economically and geographically disadvantaged.
But finally, we must remember while we can harness technology to support care delivery in these pandemic times, it can never replace physical interaction and hugs from a human.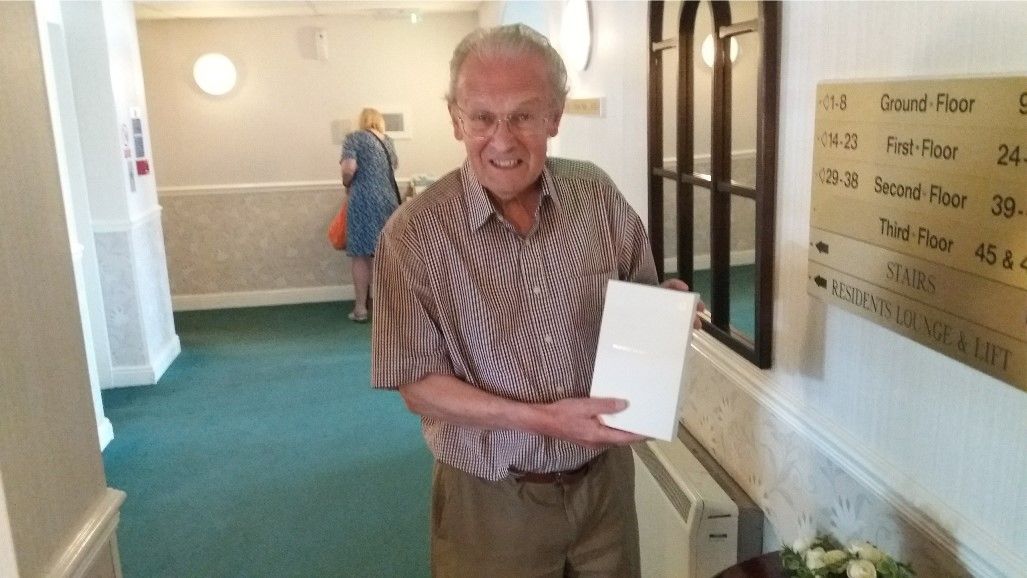 One of our thankful care home residents with his new tablet.