05 Nov 2020
Hamper for Hero's Donated to Hull Care Home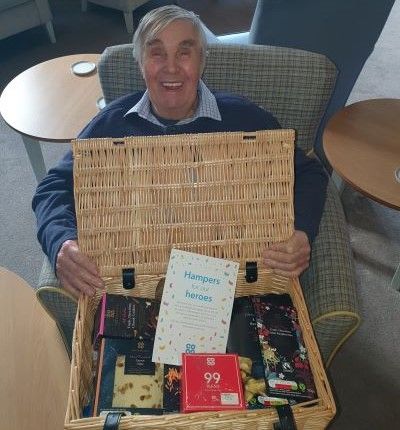 The local Co-op Store visited outside of the Hull care home this week to hand out a 'Hamper for Hero's'.
Co-op had put together a hamper for all the hard work the 'front line' staff have done over the months during the pandemic. The hamper contained lots of sweet treats, tea and coffee and even wool for the Residents to enjoy in knitting club.
Alan Rawson, one of the Residents, is kindly modelling the hamper that staff have decided to share with Residents in the photo.
One of the Residents said "Well it's marvellous! It is very thoughtful and we all can't wait to have a lovely cuppa with these posh biscuits."
It is so nice to receive such lovely gifts even after all this time for the recognition that the Colleagues at the home show to others, everyone sends a big thank-you to Co-op for their generosity.
Kellie Moore, Kesteven Grange's home manager, commented "Nothing ceases to amaze us when it comes to thanks from others."
Founded in 2011, HC-One is 'The Kind Care Company' who work with Colleagues, Residents and Relatives as they strive to provide the kindest care. They promote positive wellbeing, creating individual plans for Residents that support the mind, body and soul.
HC-One's Kesteven Grange is a purpose-built home offering residential and residential memory care, for those living with dementia.
For more information, or to view the home, visit www.hc-one.co.uk or call 0333 999 8544