08 Dec 2020
The Virtual Care Festival – A review of the digital experience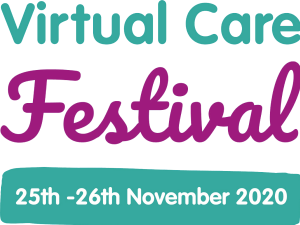 3065 delegates, 55 education sessions, 111 leading industry speakers, 37 specialist exhibitors!
They are the top line numbers to The Virtual Care Festival which took place last month, making the event the largest gathering of social care professionals this year.
Our sister events The Care Show and OT Show team were delighted to see so many regular attendees to the physical show, turn up to the first virtual experience. In addition there were hundreds of new faces and contacts who benefitted from being part of the two fantastic days of learning and networking.
The show launched with an incredibly insightful debate from our partners UKHCA; where a team of industry leaders discussed the COVID-19 pandemic and the lessons learned and what to do differently.
Followed by a double headliner of The Minister State of Care Helen Whately, speaking with our very own Care Portfolio Manager, Mike Corbett addressing the sector. Followed by Debbie Ivanova; the Deputy Chief Inspector of Adult Social Care from CQC as she discussed everything the regulator has been up to over 2020 and some plans for the future.
Debbie Ivaonva spoke about culture being an important focus for the care sector and this theme was carried out throughout the two days and discussed in a lot more detail by Simon Parker, Avnish Goyal, Adam Hutchinson, Angela Boxall and Martin Green in the Inspiring Leadership and Developing Culture in Uncertain Times webinar.
Day Two; started with an emotional session as Big Ian Donaghy commissioned an exclusive recording and video sharing the diaries of those who have lived through the pandemic within a care home environment. We may not have had the crowds singing together, but that didn't reduce any impact from this must watch webinar.
There were insightful debates around technology, workforce, equality and diversity, leadership, the perfect care environment, wellbeing and much more.
The virtual exhibition hall looked like you were back in the NEC at one of our shows. With 37 innovators to the care sectors, all with the perfect offering and services, hosted on their virtual stands.
The exhibition hall is still available to visit for the whole of December and a full line up or exhibitors include: Access, AKW, Essex Cares, Accora, Adaptive Martial Arts, apetito, Arjo UK, ASI Wise, Blueleaf, CareLineLive, Care Planner, Closeomat, Connect Builds, Cool Care, Dycem, Gordon Ellis, Hill Rom, Wissner Bossenhoff, NurseBuddy, Medequip, Motability, My Learning Cloud, NRS Healthcare, OnePlan Software, Opera Care, Ornamin, OSKA, Surestop, Promedica 24, Recruitve, Relias Learning, Standex Systems, Sumed, The Care Umbrella and Vileda Professional.
The platform will remain on-demand till the 24th December 2020, meaning if you have any spare time and want to watch or re-watch any of our webinars from the Virtual Care Festival again, you can simply head to www.VirtualCareFestival.VFairs.com, register and head to any of our 5 theatres.