26 Jan 2021
Professor Stephen Powis, National Medical Director, NHS England and Matthew Gould, CEO, NHSX to Deliver Keynote Addresses at Health Plus Care Online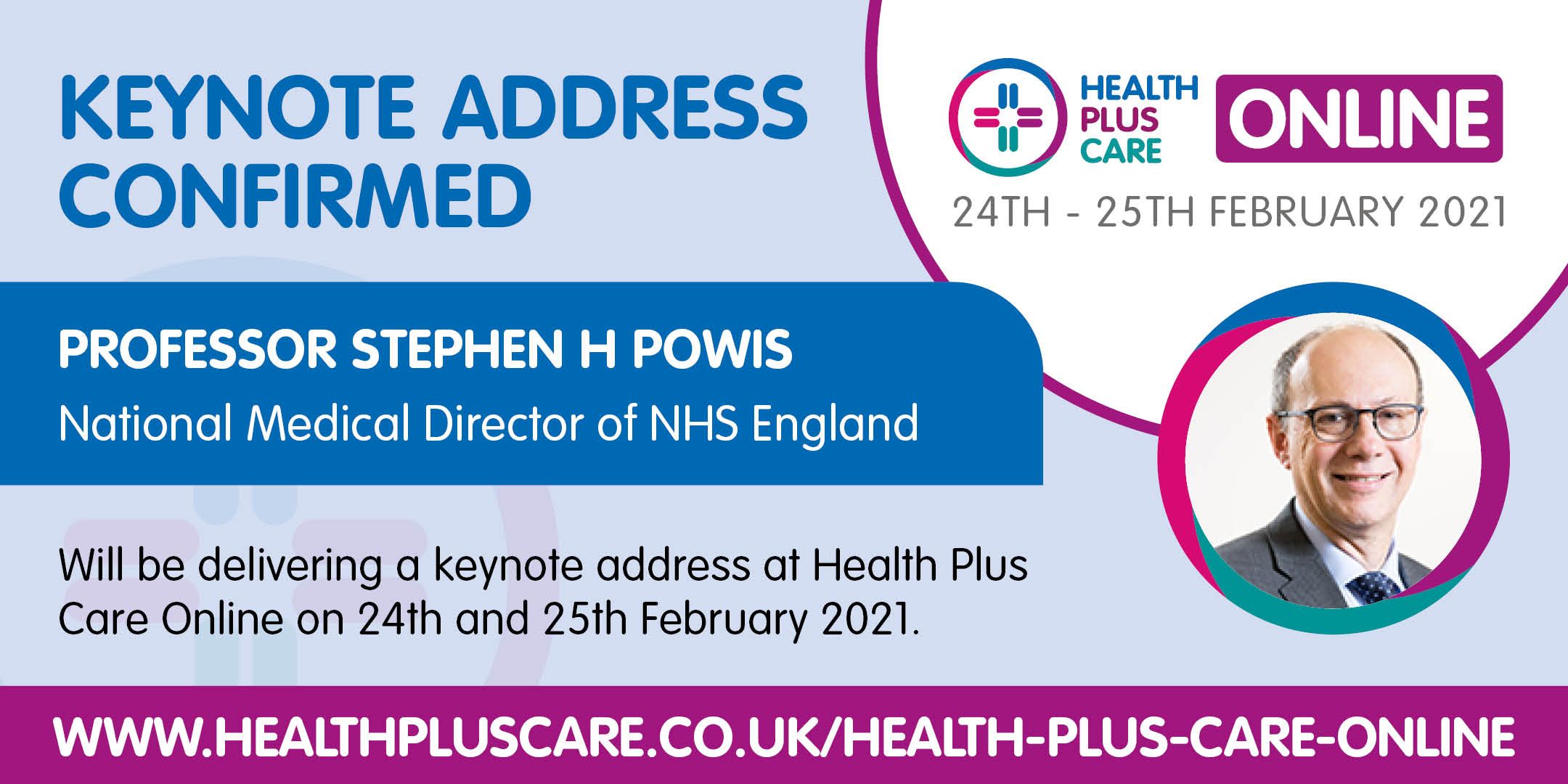 CloserStill Media Report: Health Plus Care Online, the UK's leading virtual event for the whole health and social care sector and will take place on 24th & 25th February 2021.
Organisers of the Health Plus Care Online are delighted to announce Professor Stephen Powis, National Medical Director, NHS England and Matthew Gould, CEO, NHSX are confirmed to deliver keynote addresses on the 24th and 25th of February 2021.
They will join an esteemed list of 70+ expert speakers from the health and care sectors already confirmed for the virtual show.
Free for healthcare professionals, attendees can register online here.
Health Plus Care Online will bring together the entire health and social care community virtually, to review the effects of the initial waves of the pandemic and look forward to progress being made in 2021 and beyond.
The two-day programme will be broken up into 4 key content streams:
Healthcare: Reimagining Innovation and Delivery
Digital Transformation
Residential and Homecare (social care)
Patient Safety & Infection Prevention
It will be possible to 'catch up' on demand after sessions have aired.
Health Plus Care Online is proudly supported by the NHSE&I, NHSX, CQC, AHSN, IHM, TSA, BCS, Chime, UKHCA, PRSB, Patient Safety Learning and many more leading organisations. These partners have helped us to shape and refine the event and will be delivering case studies, speaker sessions and holding networking events within the programme.
The full programme will be released soon, register here to be the first to hear when it is released:
--ENDS—
Health Plus Care Online
9am-5pm, 24th & 25th February 2021
REGISTER HERE
The organisers, CloserStill Media, specialise in global professional events within the healthcare and technology markets. The healthcare portfolio includes some of the UK's fastest-growing and award-winning events, such as Health Plus Care, The Clinical Pharmacy Congress, The Dentistry Show, The Pharmacy Show and Acute & General Medicine.
CloserStill Media is a market leading innovator. With its teams and international events, it has won multiple awards, including Best Marketer – five times in succession – Best Trade Exhibition, Best Launch Exhibition, and Sunday Times Top 100 Companies to Work For – four years in series – among others.
CloserStill Media delivers unparalleled quality and relevant audiences for all its exhibitions, delivering NHS and private sector healthcare professionals from across occupational therapy, pharmacy, dentistry, primary and secondary care with more than £16m worth of free training.
For more information, please contact:
Exhibition and speaker enquiries: Lee Davies - Lee.davies@closerstillmedia.com
Marketing and delegate enquiries: Shannon Cargan - s.cargan@closerstillmedia.com