17 Feb 2021
Highlights and Keynotes at Health Plus Care Online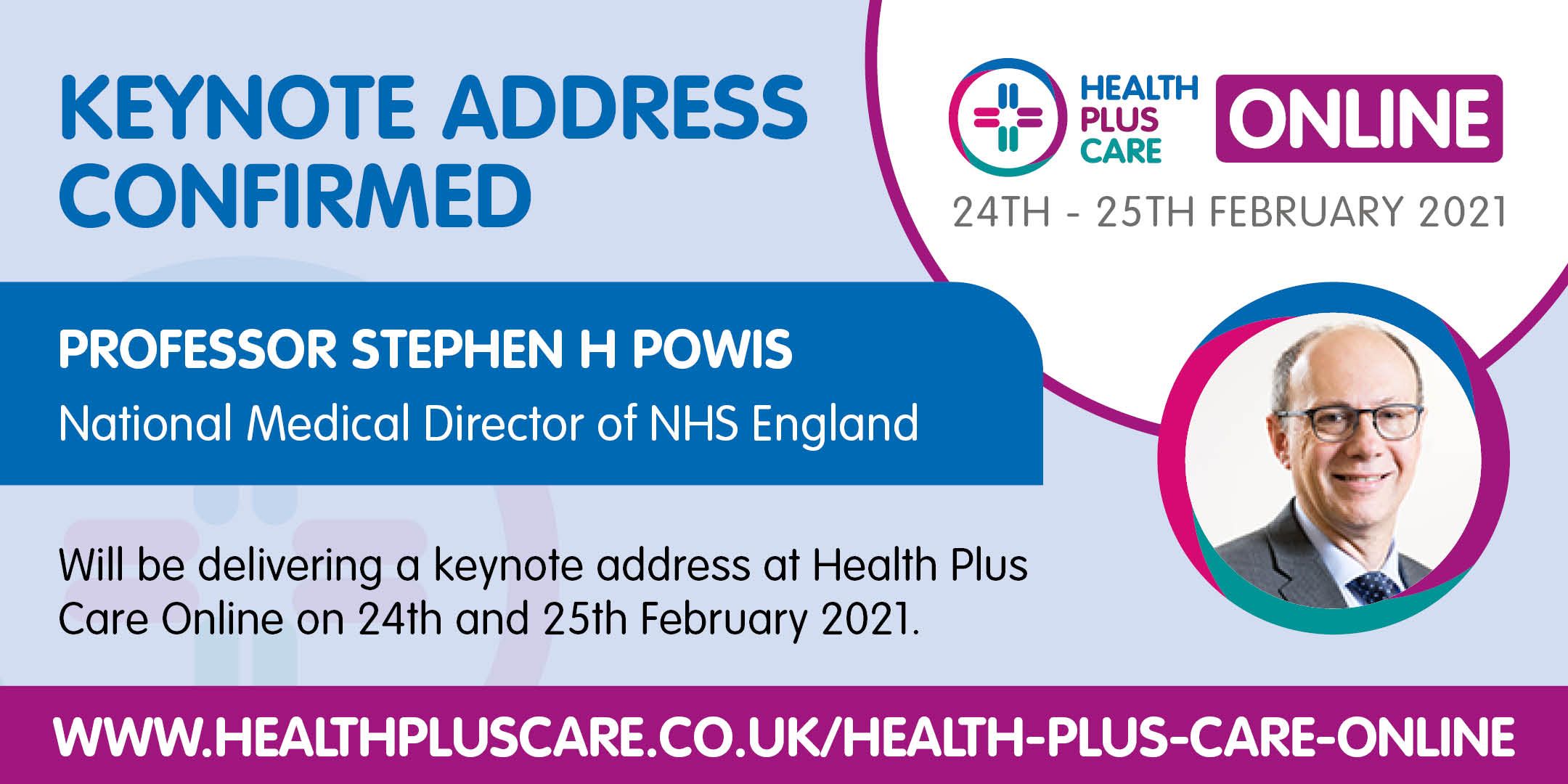 Opening Address, Prof Stephen Powis, National Medical Director, NHSE
Prof Powis will be updating us on the current news in the sector, and bringing in colleagues to reflect on some of the lessons learnt over the past year and looking to the challenges ahead. Part two of this session will be a LIVE question and answer session – so please sign up to be part of the discussion and pose your questions to the NHSE senior leadership
We have care pathway updates from National Clinical Director for CVD Prevention, NHSE, Dr Shahed Ahmad, and insight into The Future of Cancer Care from Prof Karol Sikora, Medical Director - Rutherford Cancer Centres, Prof Partha Kar, National Specialist Advisor, Diabetes, NHS - NHS England gives us an Overview of national work around technology in diabetes- and a case study in adoption of technology, and Dr Steve Holmes, General Practitioner - The Park Medical Practice, Shepton Mallet and regional clinical respiratory lead in the South West gives us the latest Respiratory update.
We hear from CIOs, CCIOs and CRIOs across the sector – debating the key challenges they face and what the future holds: Phillipa Winter, Toby Avery, Neil Sebire, Kelvyn Hipperson, Masood Ahmed, Andy Kinnear, Beverley Bryant, Luke Readman and others – plus host a closing address on day one from Lisa Emery, Chief Information Officer, Royal Marsden and Chair of the London CIO Council and a member of the Digital Health CIO Advisory Panel.
Day two opens with Matthew Gould, Chief Executive NHSX in conversation with Hassan Chaudhury, Digital Health Specialist, Healthcare UK, and part two of this session will be a LIVE question and answer session – so please sign up to be part of the discussion and pose your questions to the NHSx senior leader.
Day two continues with excellent keynotes from Prof Tim Briggs, Chair of GIRFT and National Director of Clinical Improvement for the NHS - GIRFT and NHS talking on GIRFT and patient safety in the surgery sector. We conclude the day with a closing address from Dame Donna Kinnair, Chief Executive and General Secretary, Royal College of Nursing: : COVID-19 and its impact on nursing and multi-disciplinary teams.
Please come and join us, hear from sector experts and use this opportunity to put your questions to senior leadership across the sector. Be part of this ever-changing conversation….and help shape the future.