15 Feb 2021
One step ahead: Quit Genius developed a fully digitalised stop smoking app before it became the obvious solution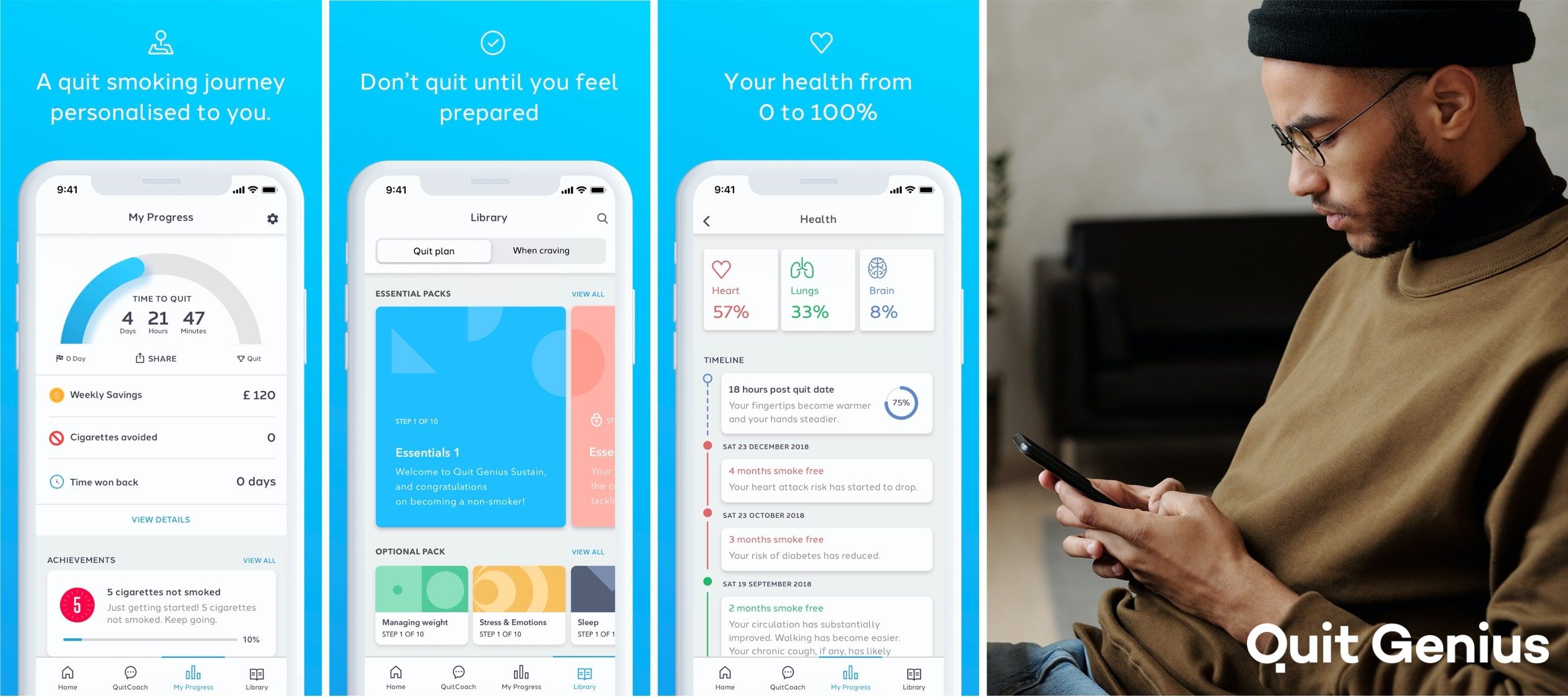 The stressors of Covid-19 may lead to a reliance on unhelpful coping strategies – addiction being one of them. Smoking remains a leading cause of preventable and premature death. In 2019 alone, the cost of smoking-related social care was £720 million to Local Authorities. We love the NHS – we are founded by doctors – but we understand the complexities that face existing stop smoking services and we want to help. Quit Genius offers:
Innovative digital platform, with easy access to multiple resources, for individuals to make informed choices
Psychological therapy delivered through a tailored CBT programme
Behaviour change Interventions through unlimited 1-1 coaching with a Stop Smoking Advisor
Combination Pharmacotherapy, via Nicotine Replacement Therapy delivered directly to door
Digital inclusivity by ensuring compatibility with multiple operating systems
The global situation offers a turning point towards the new normal of digitalised approaches. Face-to-face stop smoking services are time restricted, static and costly to run. Physical space is at a premium, and certain physical services can hinder inclusivity and accessibility targets.
Part of the NHS' long term plan emphasises that everyone admitted to hospital be offered NHS funded stop smoking support. Particular focus is on vulnerable populations – timely given that the social gradient in health inequality has never been clearer. An accessible and equitable approach to stop smoking is not asking patients to come to us. This is a barrier to service uptake, meaning time is wasted before support begins, and can be prescriptive rather than patient led. Quit Genius provides instant, self-managed and patient centred support anywhere with an internet connection. About 95% of the UK's population own a mobile phone. That opens the door to a fully digitalised, cost-effective solution for successful behaviour change.
At a glance
Digitalised solutions are becoming widely accepted as an intervention-type and demand has increased
Last year, over £300 million was spent on stop smoking services. Rolled out nationally, we could save the NHS and Local Authorities £140 million
We are already working with Local Authorities and CCGs across the UK, and employers in the US, meaning we can transition your services smoothly and hassle free
We understand your targets and provide protected monitoring and monthly reports
We are more effective than Very Brief Advice; providing multiple intervention options
We have always 'been evidence-based', appearing in 6 peer reviewed publications and the largest RCT of a digital therapeutic service being used in this field
We have already supported 60k people – and counting - to stop smoking
For you, Quit Genius means a fully outsourced, or complementary, digitalised and equitable stop smoking package that delivers proven results. For us, it's business as usual as we continue to support users worldwide, right from their pockets.
Join our mailing list to hear our latest success stories, research updates and how we can help you support your communities.
Join us at our session at Health Plus Care Online on 25th February at 10:40 - Reimagining Smoking Cessation in the NHS: Quit Genius, a fully digitalised stop smoking programme
We have been at the forefront of the digitalised stop smoking market since 2017. The pandemic has since sharpened the focus on how digital healthcare solutions can thrive, providing effective delivery measures, reaching a wider demographic and improving reporting outcomes; there's never been more momentum and appetite for a digitalised stop smoking solution. Learn how Quit Genius' evidence based, comprehensive digitalised stop smoking service can support smokers in your area to quit and bring cost savings to the NHS in the process.