17 Feb 2021
Stream 1 - Re-imagining Innovation and Delivery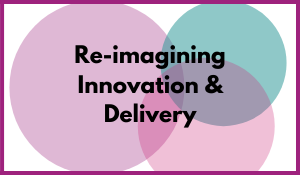 In this stream we look at the challenges and strains being felt by the health and social care system, and most importantly its workforce, and consider how the current pandemic is informing future ways of working across the sector.
The Day also focuses on:
system and service transformation facilitated by digital,
mental health challenges for workforce,
gives insight into Long Covid and the latest thoughts on how we can improve outcomes,
updates on key clinical care pathways,
welcome case studies from International and European counterparts,gain cross sector insight from partners the AHSN Network, PRSB, Google and ECH Alliance.
Facilitating service and system improvements is of course digitalisation, and in a special session from Public Policy Projects the future digital agenda for the healthcare sector is debated by Dr Harpreet Sood, Baroness Nicola Blackwood, Co-Chair of Health and Life Sciences Policy Board - PPP, Sarah Wilkinson, CEO - NHS Digital, and Lord James Bethell, Minister for Innovation - Department of Health and Social Care
Our content partner, the AHSN Network provide insight into how the system may look in the future and how spread and adoption of innovation has changed in this past year. They will also present the findings and recommendations of a newly published AHSN Network White Paper into the 'Rapid research and evaluation of health and care services' and outline the work that has been undertaken to better understand the experience of patients and the public during the pandemic.
You'll also benefit from updates on clinical care pathways in cardiovascular disease prevention, diabetes, respiratory disease, and oncology from national clinical directors and expert advisors: Dr Shahed Ahmad, Professor Partha Kar, Dr Steve Holmes and Professor Karol Sikora. Looking internationally, we gain insight from experts from Malaysia, the USA, Norway, Galicia, Spain and Lithuania