19 Apr 2022
How Priory Medical Group and Klinik are cutting GP waiting times and managing unmet demand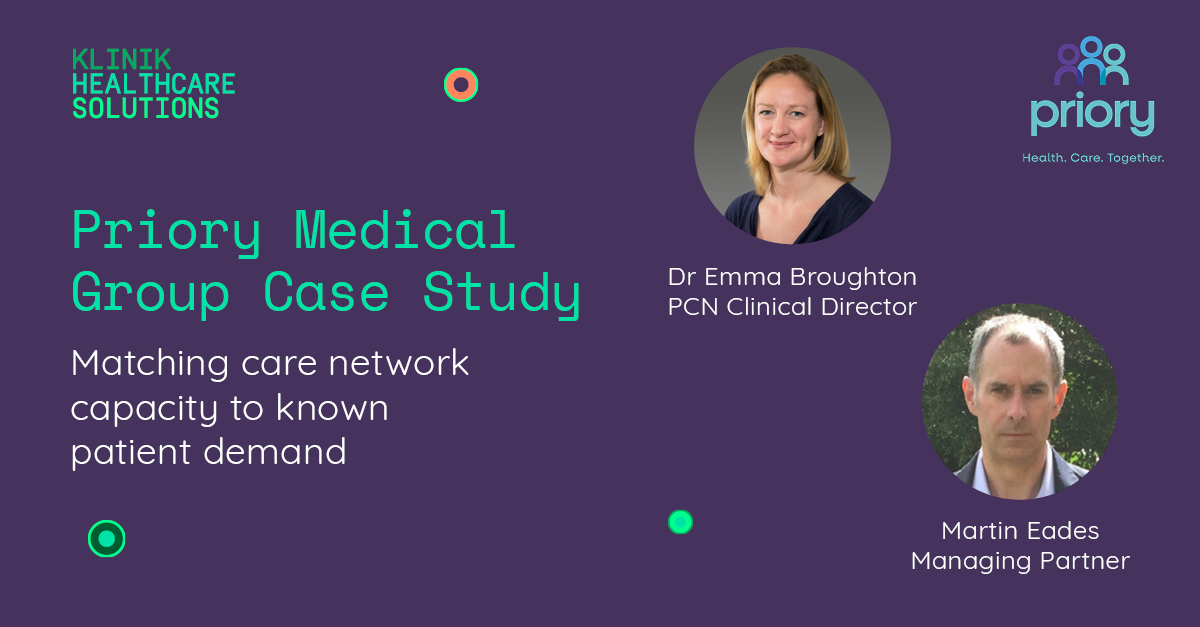 When Priory Medical Group wanted to reduce the waiting time for GP appointments, the York-based primary care network looked to digital triage and process change to help address the issue.
The PCN knew it had to adapt; people were waiting for up to four weeks for a routine appointment.
Using demand analysis, prioryCARETM business change, and Klinik's AI total triage technology, the PCN has been able to turn things around.
The prioryCARETM approach combines leaner clinical pathways, data-driven resource planning and digital triage and patient flow management systems to enable clinicians to direct patients to the right type of care first time.
As a result, workload can be shared across the whole PCN team. This relieves the pressure on GPs and, as a result, appointment waiting times are down to just 5 or 6 days. Patients have also seen much quicker response times, often within 30 minutes for a minor ailments enquiry.
The approach has delivered numerous other benefits for the PCN.
Within three months of operation, it was able to manage over 8,000 patient contacts with the same level of clinical resources.
The Monday morning scramble for appointments is a thing of the past, thanks to intelligent staffing over the weekend and smart technology that flags the urgency and priority of each case.
More than nine out of ten staff say the system is a vast improvement on previous approaches, and 87% of patients rate the system as good or excellent.
For managing partner Martin Eades, Klinik has enabled Priory Medical Group to come up with "a much more efficient model".
"The demand data we get from Klinik is the silver bullet that informs more precise workforce planning, enabling us to more accurately match capacity to demand."
With PCNs being urged to cut appointment waiting times and ensure that they are meeting the demands of their local populations, it has never been a better time to find out more Klinik technology.
Hear more from Priory Medical Group managing partner Martin Eades on how his PCN is using Klinik at this year's Health + Care Show. Martin will be in the Digital Transformation Theatre on 18/05/22 from 12:45 to 13:15 in the Digital Health workstream of the show.
Please also download the full case study for more details of how Klinik is powering prioryCARETM for the PCN.