Chatsworth found the missing piece in Cura!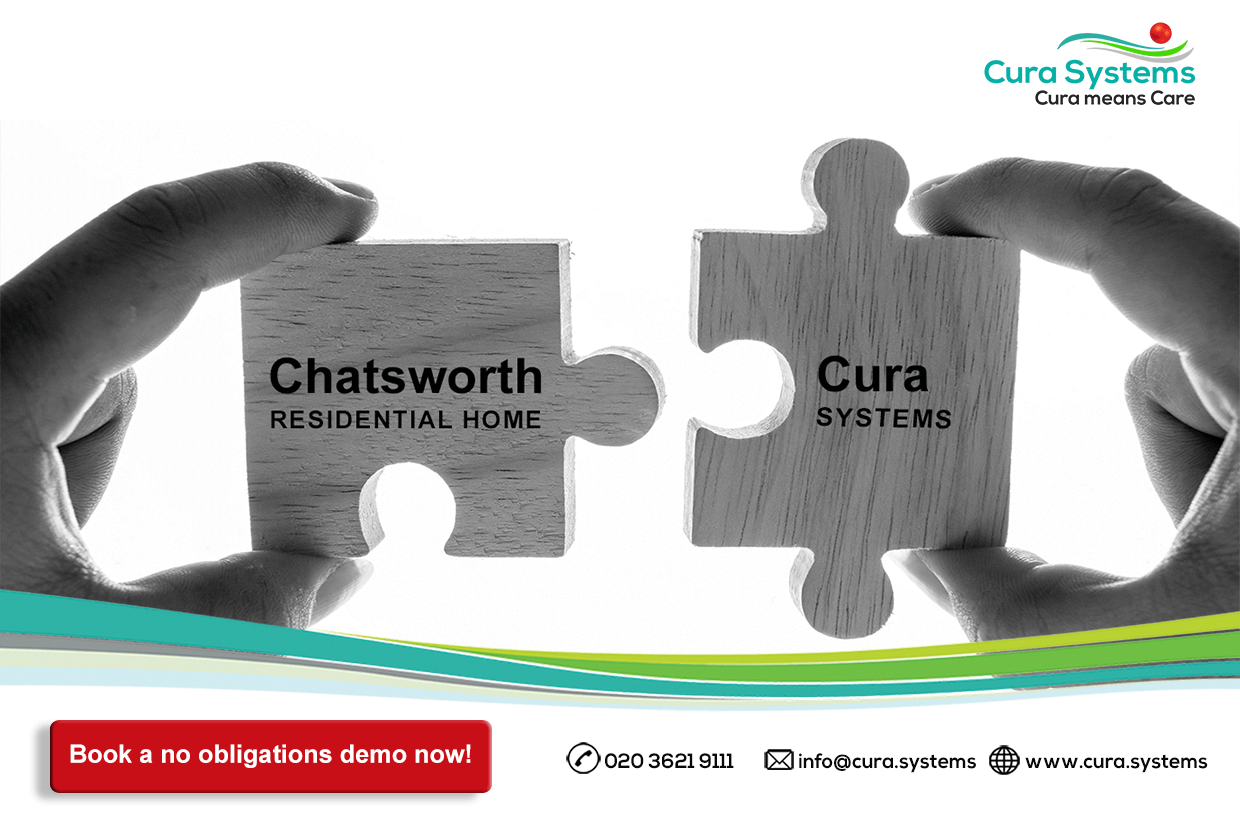 "With Cura, you get a future-forward care management tools that lets you stay in control and manage every aspect of care."
The dark clouds of Covid made us reassess many things we previously took for granted. However, some changes have a silver lining as we have seen an increase in the use of digital devices and they have become a coping tool in the daily challenges of providing care. Technological innovations such as apps and tablets can help to provide greater assurance that appropriate care is delivered, and on a timely basis.
Sally Colwill, Care Manager from Chatsworth made the switch to digital care planning in April 2021 to make their caregiving life a lot easier and found Cura not only a paper-free solution but also helped to greatly reduce inefficiencies. Cura is an intuitive care system that's specifically designed to manage all aspects of their day-to-day operations, in particular for complex care situations. Read more…
"Everybody gets used to Cura and it's so much easier to learn than expected. Even the staff who were against technology now love Cura," says Ms Colwill. As the system enables them to work on tablets, caregivers now spend more time caring and less on paperwork.
Ms Colwill highlighted handover notes where they can securely access all information in one place. She was also impressed with Cura's RFID feature, "It gives more accurate information for the night staff and like I said it's time scheduled so you know what time things have been done. That's a brilliant aspect of it!" The key benefit from Cura is its time-saving feature – the night staff noticed that. Caregivers can easily record what time action was actually taken and that's far more efficient than doing it on paper.
"Cura…there's just so much on it! I would definitely recommend Cura to other homes. Our staff and care givers feel more confident to handle the complexities of the home." says Ms Colwill who has been with Chatsworth for twenty-six years.
Cura deals with just about any aspect of care home administration that you would wish for. It supports Chatsworth in so many ways, including: time savings, improving care recording processes, meeting compliance obligations with its comprehensive audit trails, reducing errors from manual data entry, and improvement in resource planning and handover between shifts.
We at Cura will continually bring care to the next level by working towards more innovative ways in the advancement of technology and will ensure that you get the most out of our intuitive care management system and be handheld through the going digital process.