22 Feb 2022
The Guardian Article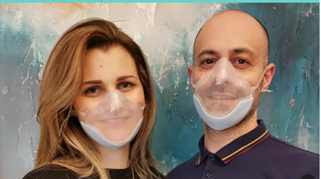 The Guardian Article on Helloface
Face masks have been an essential part of limiting the spread of Covid-19. But for many people who are deaf or hearing-impaired, the coverings have left them isolated from society. When Dean Ezekiel's wife Aimee, who is partially deaf, attended a pregnancy scan during the first lockdown, she was distraught to find she had no way to determine what the doctor was saying. "Because he was wearing a mask, she couldn't read his lips. She felt helpless without the use of basic communication," says Ezekiel.
It was that experience that inspired the entrepreneur to start Design Abled and develop Helloface, a transparent, recyclable face mask, which is compatible with facial recognition technology. The startup was recently recognised for its sustainability credentials, winning the microbusiness category at the Heroes of Net Zero competition at Cop26.
Designed in the UK, Ezekiel's team has worked closely with the Jewish Deaf Association to run focus groups and iterate the design based on user feedback. "The stories about what people are going through are quite heartbreaking," says Ezekiel, emphasising that in medical care settings, some of the strongest, most confident and successful people in our community can automatically become the most vulnerable.
"There are people in hospital beds who can't tell the nurses that they need to go to the toilet. There are deaf children at school who can't understand their teachers. And others, like Aimee, who attend medical appointments they can't participate in," says Ezekiel.
https://amp.theguardian.com/reimagining-sustainability/2022/feb/22/the-face-mask-that-allows-deaf-people-to-read-lips-and-the-entrepreneur-behind-it