26 Apr 2022
Made for a care environment.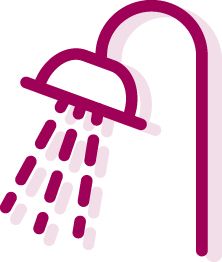 Learn all about our innovative assisted shower solutions where design excellence meets commercial grade products made with premium materials, designed to be used time and time again without wear and tear.
Here we share two of assisted showering solutions made for wet environments, no corrosion technology!
The commerical grade Opale wall panel hygiene shower systems provide a thermostatically controlled patient shower experience and auto disinfection system used to clean equipment after patient use.
This clever assisted showering system allows personal hygiene routines for patients on shower trollies. Uniquely designed for wet environments the no corrosion technology ensures it will endure the toughest of healthcare settings.
Bringing stimulating showering to everyone. The Amber variable height shower stretcher aids individuals with poor sitting balance to be ergonomically washed under running water. Height adjustable design height transfers can be made safely and seamlessly from other aids such as beds, seats and wheelchairs with ease.
No excuse to not have a shower with this fold away changing table designed to be used with other aids such as beds, stretchers, shower seats and wheelchairs with ease.