23 Feb 2022
Tucking smart technology into care beds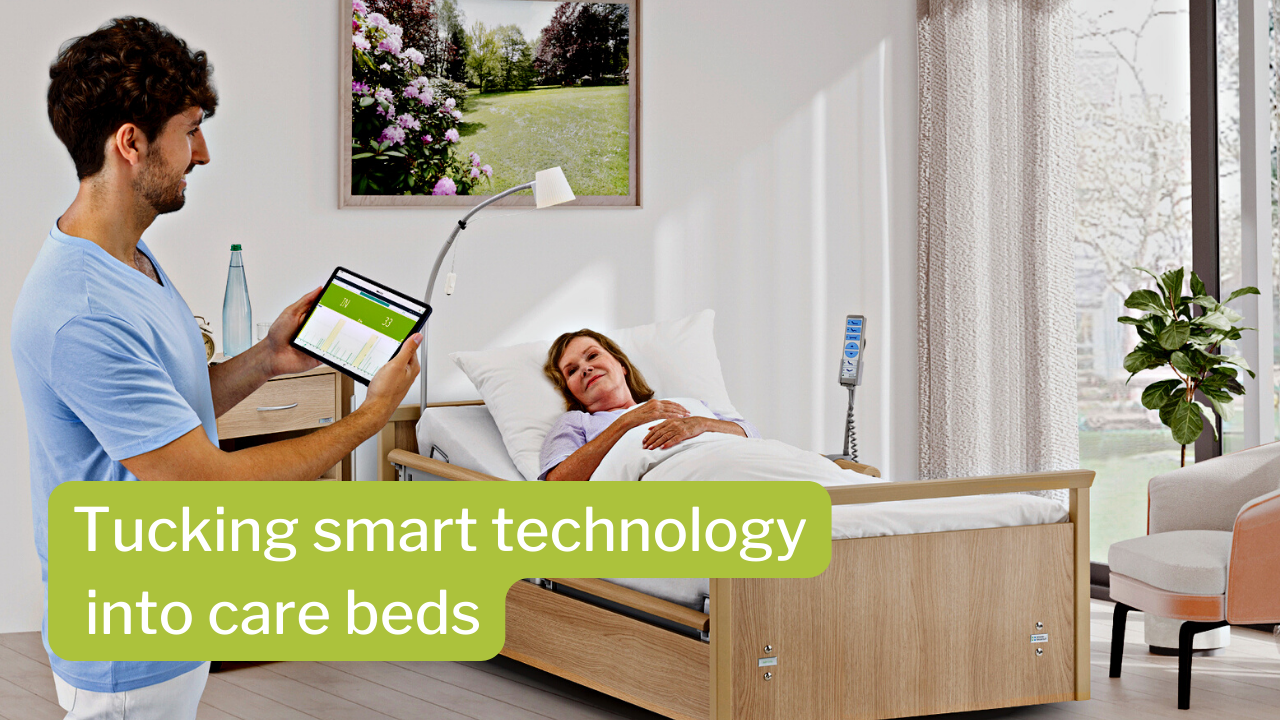 Rob Marsden, national sales manager for wissner-bosserhoff UK takes a look at how as a company we are incorporating innovative digital technology into our products to help deliver higher quality care.
When it comes to technology in care I have the same shared passion as wissner bosserhoff. For many years, I have championed using technology, not to replace but to enhance the quality of care delivered by our fantastic care workers across the sector. There are always barriers when it comes to digitisation, not least the biggest of all: change. I do believe, however, that with what has happened during these challenging times, people have become more accepting of change and are more willing to embrace change - as long as it is for the right reasons. It has also given us all more time to reflect on the 'normal' and consider how we may be able to do things differently.
Embracing change through technology
The nursing shortage is already a reality in many communities worldwide. The number of people in need of care is rising rapidly while, at the same time, there is not enough nursing staff available to successfully cope with this development.
Taking up the trend and challenge of digitisation early on, wissner-bosserhoff has been gathering valuable experience with the SafeSense bed exit sensor system and the sentida 7-i intelligent nursing home bed since 2014. During this time, SafeSense has matured into a care assistant with further valuable functionalities and is recommended as future-proof digitisation platform due to its open architecture. This architecture can be easily retrofitted with even more functions that additionally relieve the care givers. The SafeSense 3 digital care assistant features a completely contactless, patented sensor pad, which is positioned under the mattress and detects the smallest pressure changes in real time. This allows the movement activity of residents or patients to be recorded and the visualised data can be used to draw valuable conclusions about their individual movement profile.
Pressure injury prophylaxis and falls prevention
Hazards such as pressure injuries and falls can be detected early and corresponding warning messages can be recorded silently as desired or forwarded as an active DECT (digital enhanced cordless telecommunications) call. The declared aim of this new technology is to reduce the number of patrols and custodial measures and to increase the safety of patients and residents.
SEE OUR VIDEO AT THE BOTTOM OF THIS FEATURE
First UK customer opts for SafeSense 3 trial
The first UK customer trial for the new SafeSense 3 is Adept Care Homes, which has recently started a trial along with the sentida 5 universal low nursing bed. Emma Philpott, operations director for Adept, said she fully recognises the benefits of using technology in care and is very keen to see the positive results for residents and staff. Meanwhile, many field trials are ongoing across Europe now with some very positive results. Even before product launch the Safesense 3 was gathering recognition. At the Asia Pacific Eldercare Innovation Awards 2020 last November, which were presented during the virtual edition of the Ageing Asia trade fair in Singapore, SafeSense 3 was able to convince the 16-member international jury. The product innovation, which was presented to a broad public for the first time at the event, received the so-called 'Oscar of geriatric care' in the Best Smart Care Product award. The prize, which is highly prestigious in the Asia-Pacific region, was awarded at the 8th Aging Asia event, where more than 5,000 participants from 35 countries were able to listen to 170 speakers over the 23 days and visit a virtual showcase of 100 innovations for care of the elderly. Entries for the award were submitted from Australia, China, Denmark, Germany, Hong Kong, Indonesia, Israel, Japan, Malaysia, New Zealand, Singapore, Taiwan, Thailand, the United States and the Netherlands in 25 categories.
Virtual reality design
Speaking of innovative technology, I was recently amazed to see what someone living with dementia actually sees compared to someone without by using a new virtual reality called VR-EP (Virtual Reality - Empathy Platform). VR-EP comprises a laptop with high performance graphic and memory capability, Virtual Reality goggles, a games controller, camera and bespoke software programming. Dementia-friendly design can significantly improve the quality of life for people living with the condition.
There are currently more than 800,000 people in the UK living with dementia, a figure that is expected to rise to 1.7m by 2051. Dementia costs the UK economy £26.3 billion per year – more than cancer and heart disease combined. People living with dementia can see things very differently, with objects often appearing dimmer and less colourful than they really are, which can be frightening and confusing. By using the VR-EP device to see things through the eyes of a fictional person living with dementia, building or interior designers will be able to create homely and familiar environments that could reduce accidents, lessen anxiety and help those living with dementia live more independent lives. The device can help architects and designers create dementia-friendly buildings and spaces by understanding how dementia can affect a person's vision. It can be used in the design of new buildings such as care homes, hospitals or sheltered housing, and also has the potential to assess existing buildings and environments. This application can help healthcare providers save expensive adaptive costs by designing buildings and spaces with the person living with dementia in mind. The idea is the brainchild of David Burgher, director at Scottish Bordersbased Aitken Turnbull Architects, who has developed the product in association with Glasgow CGI firm Wireframe Immersive in association with Dementia Centre, Hammond Care. The Dementia Centre is recognised as a world leader in dementia support, care and design, and provided the evidence based research and academic rigour to this product. David has developed a vast knowledge within the private care sector, including residential care, nursing, dementia and specialist care fields throughout the United Kingdom and Channel Islands. "At Aitken Turnbull we have many years of experience in designing buildings for the elderly and for people living with dementia and have gained valuable insight into the condition, allowing us to empathise with those who live with it," he says. The introduction of this unique VREP technology takes this insight to the another level - giving building designers first-hand experience of how dementia affects vision so that we can design spaces that are far better suited to people living with the condition. David adds: "As well as reducing anxiety, the improved design offers a better, safer and more independent quality of life. Dementia-friendly design doesn't have to cost more. In fact, by using VR-EP, designers will get it right first time and therefore reduce costs."
An eye on the future
I have met David and fellow VR-EP director Kevin Gordon. David and Kevin are both very passionate about care and technology and immersed me in an environment, which up until then I thought I was familiar with. While taking a virtual tour of a care facility, I was staggered when the filters were altered to show me how it would look to someone living with dementia. After years of talking to people about 30 points of colour difference and light reflectance value, I thought I had a pretty good idea. Not so! Using the VR-EP platform has transformed my thinking and makes me more determined to get more people to understand what it is potentially like living with dementia. We will be looking to use virtual reality in the future.
---
You can see more this feature in the Care Home Environment Volume 6 Issue 11 NOV 2021
---
Reach out to us to find out more about our solutions:
wissner-bosserhoff UK (Part of the LINET Group)
TEL: 0800 0353 345
EMAIL: solutions@linet.uk.com
VISIT: www.wi-bo.com/en-WI/