Understanding patient demand and matching it with care network capacity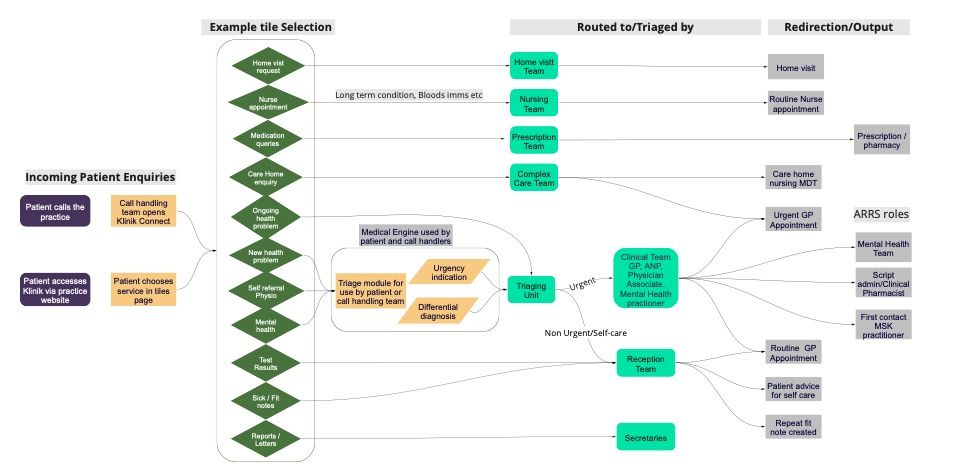 In 2019, Priory Medical Group in York faced the challenges of many other similar GP groups. It needed to improve patient access to clinical services for the 60,000 patients it served. Patients were having to wait up to four weeks for routine appointments at the single practice PCN. Meanwhile some staff members were being overwhelmed and others underutilised. Patients were asked to call at 8am for an appointment. However, by 9am, most of the appointments were gone. Customer service teams had to tell people to call again for an appointment, whilst some callers exaggerated the severity of their symptoms just to see a GP. Priory knew that, in order to improve access, it had to understand how to accurately measure and then manage demand.
Technology and process change were the answer
The group undertook a huge piece of analysis to try to understand total demand. This fed into the creation of lean clinical pathways that looked to deal with all the demands on the practice. Priory looked to the market for technology that could support its efficiency plans. They engaged patients and the local Healthwatch in exploring the options. Then the coronavirus pandemic led general practice to adopt a 'Total Triage' approach to care. GPs were tasked with screening every patient enquiry and taking a 'digital-first' approach to patient consultation. Priory staff and patients saw that Klinik would provide the digital-first model of total triage that would help get the right patient to the right clinician at the right time. Klinik's clinically-supervised AI algorithm is able to indicate the priority and urgency of cases to practice staff. This helps Priory allocate appointments according to clinical need, providing much more equitable access to care. The system also helped measure the actual demand faced across the PCN's nine sites. "Klinik has helped us shine a light on utilisation at quite a granular level," says Priory Managing Partner Martin Eades. "The data has helped inform how we have remapped all of our clinical pathways, and the administrative work that patients generate, to come up with a much more efficient model." Priory has used Klinik as the technology enabler for PrioryCARE™. This builds process efficiency on technological foundations to manage demand for the benefit of patients, staff and system planners alike.
How it works
1. Patients use an online form on the PCN website. Call handlers or care coordinators ask the same questions for phone or in-person enquiries.
2. Klinik then uses its clinically-supervised AI to analyse the information to indicate the urgency and priority of each case and suggest the next steps for care.
3. Triage professionals then deal with each case or assign them to the most suitable healthcare professional.
Happier patients get the right care from more satisfied staff
The efficiencies delivered by the Klinik-powered PrioryCARE™ service have helped reduce waiting times for routine appointments from 4 weeks to 5 or 6 working days. In some instances, the PCN has been able to deal with all the enquiries on the system, which has helped relieve the burden on staff and provide more streamlined care for patients. Appointment capacity has increased too. As GP and PCN Clinical Director Dr Emma Broughton notes: "In the first three months of using Klinik, we completed 8,000 more patient contacts than this time last year, with no additional clinical resource."
"Klinik takes patient data and presents it to you in an accessible way to help clinicians and nonclinicians do their work," she says. Patients are seen more quickly and by the right professional. "Patients have been astounded at the speed of response for their urgent conditions," says Dr Broughton. "We can often respond within 30 minutes of a submission for minor ailments, using the information gathered by our digital platform." Getting an appointment is much more efficient for the patient, too. Rather than a first-come-firstserved basis, the patient is being looked after in a better time frame by the correct clinician. Staff members are feeling more satisfied now they can direct patients towards the best outcome. A staff survey showed that 92% think that the PrioryCARE™ system is better than the old access model. Patients are also happier, with 87% rating the Klinik-powered system as good or excellent.
Klinik data has enabled the PCN to shape and unite the workforce
Klinik's demand data has helped Priory to remove typical bottlenecks in the appointment process. It saw that demand for advice and prescribing requests could build up over the weekend. By introducing a skeletal call handling and prescribing service on Saturday and Sunday, Priory has been able to avoid the usual Monday morning backlog. Klinik data is also influencing workforce planning." As a result of analysing the data, we have now expanded our physio team from two to three, supported by the evidence of need," says Dr Abbie Brooks in an NHS England case study. Spreading workload has made longer appointments possible and improved continuity of care. Clinicians can put more time aside for those who need it and can find it easier to get insight into the needs of patients under their care. "Putting all requests through a single system has improved safety, continuity, and waits for routine care," adds Dr Brooks. Collaboration across the network is also improved. The technology enables the entire practice team to come together around the needs of each patient and even involve people such as community pharmacists to answer patient needs. Access is also improved as most enquiries can be dealt with using digital channels. Phone calls used to be 99% of all contacts; now they represent 30% of enquiries. This frees up call handlers to help educate and engage with patients. Online consultation rates are also way ahead of PCN targets.
Putting this into practice
Multiple benefits are clear following the introduction of Klinik and PrioryCARE™. However Managing Partner Mr Eades notes that delivering such improvement is not a tick box exercise. "PCN leaders need to organise things differently to make lasting change," he advises, even though there can be anxiety about this. Priory Medical Group has a brilliant team that has come together to design and implement changes across the PCN, and this can be copied elsewhere. "PCNs need to look at how they put together a suitable change management team. This needs to bring together people who can help with ideas, communications, and involve the detail people. No one part will succeed without the other. "Whilst no one can be expected to get everything right from day one, he says, the current pressures on general practice make undertaking such a change urgent. "There's not going to be pause for breath for practices. Managing patient demand while you have the twin workstreams of dealing with the day job and an enormous backlog from multiple sources, will come rushing at you. PCNs need to have processes in place to manage that safely. The time to do this is now." General practice is looking to play its part in helping to achieve healthcare's Quadruple Aim, which sets out to improve the patient experience, enhance staff satisfaction, and implement more efficient and effective primary care. As can be seen with Priory Medical Group, Klinik provides the technology to enable forward-thinking GPs and healthcare networks to achieve this aim