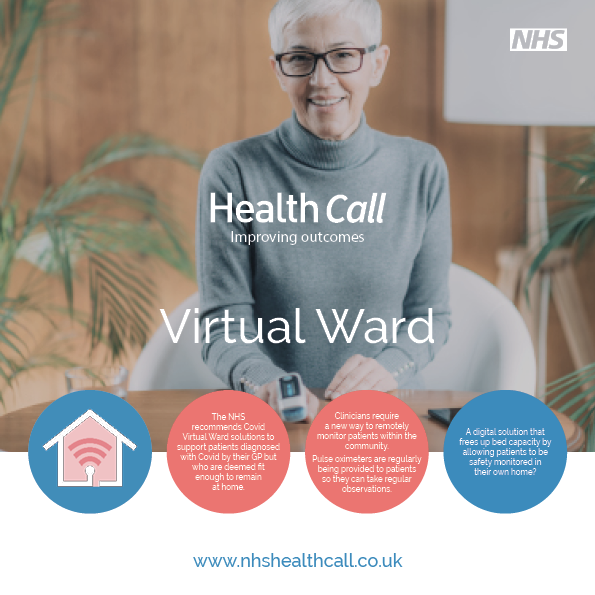 As variants of the Coronavirus continue to impact our daily lives, limiting exposure to the virus is paramount for everybody, regardless of our general health.
Our Virtual Ward solution is a popular example of how remote monitoring can increase the safety of the general public whilst protecting those at risk of further deterioration following a positive Covid diagnosis.
Our user-friendly solution allows clinicians to remotely monitor the health of patients who have been recently diagnosed with or suspected of having Coronavirus so that they can remain at home following advice from their GP whilst being closely monitored for any signs of deterioration. Healthcare teams can also now transfer patients to a Health Call Virtual Ward, which supports safe and earlier discharge of Coronavirus patients from hospitals.
Patients are provided with a pulse oximeter. Once the patient has been enrolled on the system, a clinician can set your bespoke 02 levels.
Patients will then receive 2x daily prompts to remind them to submit readings, and tailored advice is provided. Observations you are required to take are:
• heart rate
• oxygen saturation
• temperature
You will then be asked a series of questions relating to your health and how you are feeling, which may indicate deterioration. Our technology provides a dashboard which allows a visual overview of patients' status and alerts the clinician to take action (where required). And it's that simple!