Health+Care Webinars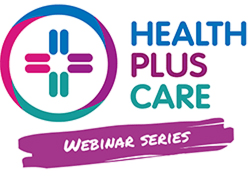 We are delighted to announce the launch of our new Health+Care webinar series, delivering free online education and support to our healthcare community during the COVID-19 outbreak.
Upcoming webinar:
11. The COVID effect - Chronic Conditions and Pain Management
Our panel of cross sector experts will explore how the pandemic has hugely altered the treatment of patients with chronic conditions, and specifically delayed the pain treatments of an estimated 150,000 people. We will discuss how best we can look after the increased number of 'left behind' patients requiring pain management, and how we can build clinician understanding and education on the available solutions. We be examining what post-Covid pain management could look like, how we can use technology to appropriately care for complex patients (e.g. taking controlled drugs, needing care at home) and how we can address unmet clinical needs.
Speakers:
Chair: Dr Mala Mawkin, Digital Health Podcast Host for Royal Society of Medicine, Cellen, Forbes 30 Under 30 Doctor
Yousaf Ahmad, Chief Pharmacist of Care UK, General Pharmaceutical Council Board Member [this is a shortened version of title for the banner please use full title on the bio page]
Dr Natasha Curran, Consultant in Anaesthesia & Pain Medicine, Medical Director at Health Innovation Network, Joint Director of Clinical Strategy Kings Health Partners
Dr Haggai Sharon, Honorary Consultant at the Pain Management & Neuromodulation Centre at Guy's & St Thomas' NHS Foundation Trust
Click here to sign up and join us!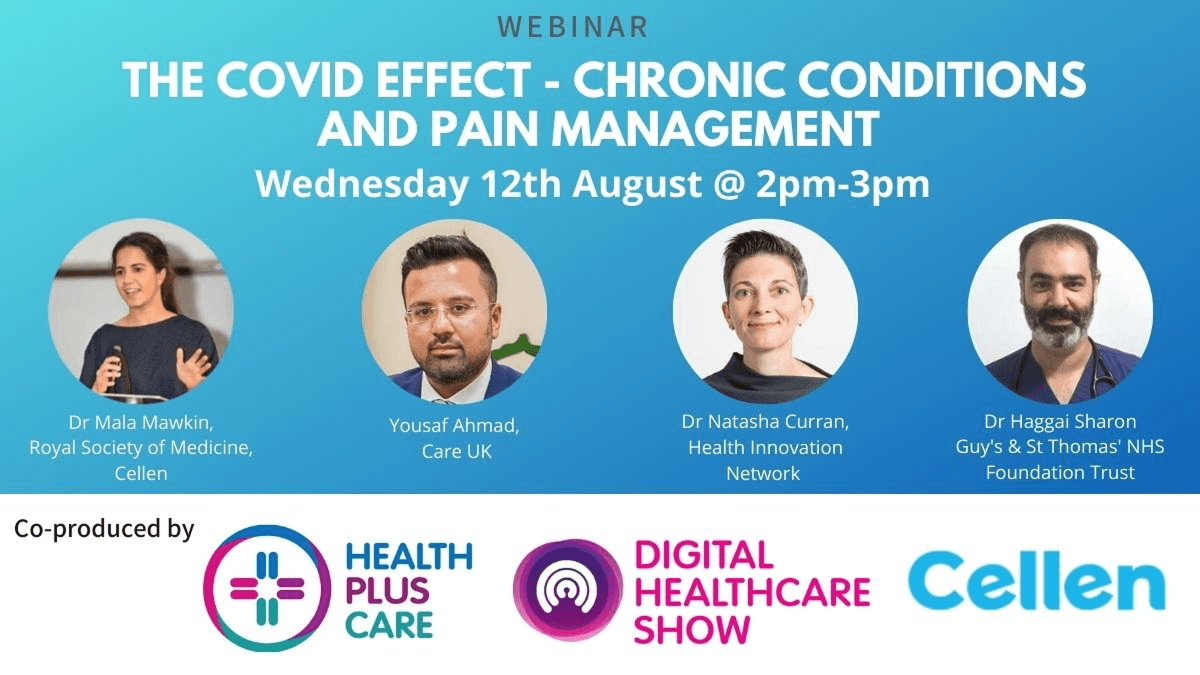 Past webinars - watch the recordings:
10. An update from the Care Quality Commission (CQC)
Produced by Health+Care, The Care Show and Care Quality Commission (CQC).
Join Sue Howard, CQC's Deputy Chief Inspector of Adult Social Care to hear more about the future of regulation beyond the pandemic.
In March, CQC made the decision to stop routine inspections during the outbreak in part to protect people by limiting the number of people entering care homes and risking the further spread of the coronavirus. CQC put in place their emergency support framework (ESF) tool to facilitate structured conversations with providers to check-in, support and advise.
As the situation evolves and the impact on the health and social care system changes, CQC will be adapting the ESF tool to be used alongside their responsive visits and a managed return to routine inspection of lower risk services in the autumn. Inspectors are now scheduling inspections of higher risk services to take place over the summer.
9. Covid-19 – developing a population health-powered response
Recorded Tuesday 7th July 2020, 12:30-2:00 PM
This webinar will demonstrate how Population Health Management is being used as a powerful tool in the response to COVID-19 at the level of system, place and neighbourhood and individuals.
Our panel will share how they are using Population Health approaches to enable local partners to collectively take more informed decisions to plan and deliver more effective interventions to tackle COVID-19. We will also look at how Population Health can be used to tackle the hidden health impacts of the pandemic, protect BAME and other at-risk communities and to reduce inequalities. There will be concrete examples of successful PHM approaches at all four levels with practical advice on how to get started and make good progress.
There will be plenty of opportunity for discussion and Q&A throughout the webinar and useful resources to download to support you to start planning your own population health initiatives around COVID-19.
Expert speakers include:
Dr Sakthi Karaunanithi, SRO, Prevention and Population Health, Healthier Lancashire and South Cumbria
Jacquie White, Director of System Development, Primary Care and System Transformation, NHS England and NHS Improvement.
Dan Alton, GP Partner, Wargrave Surgery, Berkshire
Katie Summers, SRO Population Health Management BOB ics and Operations Director and CIO, NHS Berkshire West CCG
Jason Bowles, Health and Wellbeing Advisor/ Link Worker, Wokingham North Primary Care Netowork (PCN) and Involve Community Services.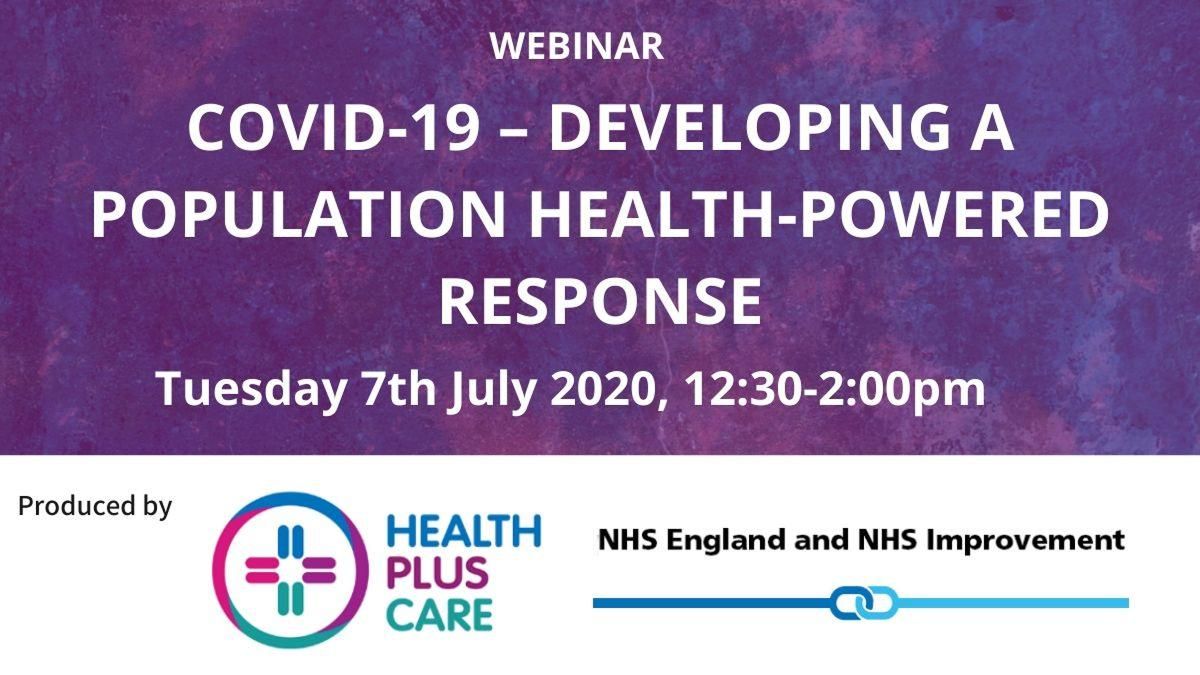 8. Tech4cv19 - the Call to Arms
Recorded Friday 3rd July 2020, 12:00 - 1:00 PM
This webinar will introduce Tech4cv19, the call to arms to support both tech suppliers and care organisations during COVID19 and share examples of companies who pivoted to provide additional support. The webinar will ask how we can continue this level of collaboration and can we sustain this shift in working practices to benefit all in the future?
Our guest speakers will share with you what they have learnt from their experience:
Chair: Nicola-Haywood Alexander, Co founder, Tech4CV19
Speakers:
Hassan Chaudhury, Digital Health Lead, Healthcare UK
Steven Killick, Product Manager, WiFi Spark
Pramod Prabhakaran, NHS Consultant Neuropsychiatrist/International Business & Partnerships, Imperial College Health Partners
Katz Kiely, Founder, Frontline Live
Mat Oram, CEO and Co-founder, AdviseInc
7. Import and International collaboration opportunities for e-health – UK and Dutch perspectives
Recorded Thursday 25th June 2020, 1:00pm-2:45pm
This webinar will be an 'international collaboration e-health afternoon' with the Netherlands Business Support office and the UKTI, exploring the challenges and opportunities presented by Covid-19 for international businesses.
The session will be begin with a scene setting from Hassan and Team around import and export, where we currently stand in health and social care and the opportunities that now exist.
Free to attend, this webinar has been brought to you by The Digital Healthcare Show, NBSO and Healthcare UK.
Chair: Hassan Chaudhury, Digital Health Lead, Healthcare UK
The Expert Speakers:
Dr Linda Magee OBE, NHS Investment Specialist , Healthcare UK
Pramod Prabhakaran, NHS Consultant Neuropsychiatrist/International Business & Partnerships, Imperial College Health Partners
Omar Butt, Innovation Account Lead, Imperial College Health Partners
Yosef Safi Harb, Founder, Happitech
Thomas Timmers MSc, Founder & Researcher, Patient Journey App
Watch Webinar Recordings:
6. Locally Designed, Nationally Scalable Remote Access Transformation Using VDI Technology
Recorded Wednesday 11th June 2020, 11:00am-12:00pm
Exploring public sector/ private sector collaboration delivering remote access transformation using VDI technologies, we will look at why these are solutions for the current times and for the future; providing easy access to patient data, use of any device, accelerated speed of change, strong cybersecurity, and options for future rollout to help shape the future of health and care.
Chair: Andy Kinnear, Digital Health & Care Advisor, Andy Kinnear Consulting Ltd
The Expert Speakers:
James Butler, Chief Technology Officer, Trustmarque
Hema Purohit, Business Transformation & Healthcare Strategist, Advisory Services, VMWare
Damian Williams, Birmingham GP
Lauren Bevan, Head of Health and Social Care, BJSS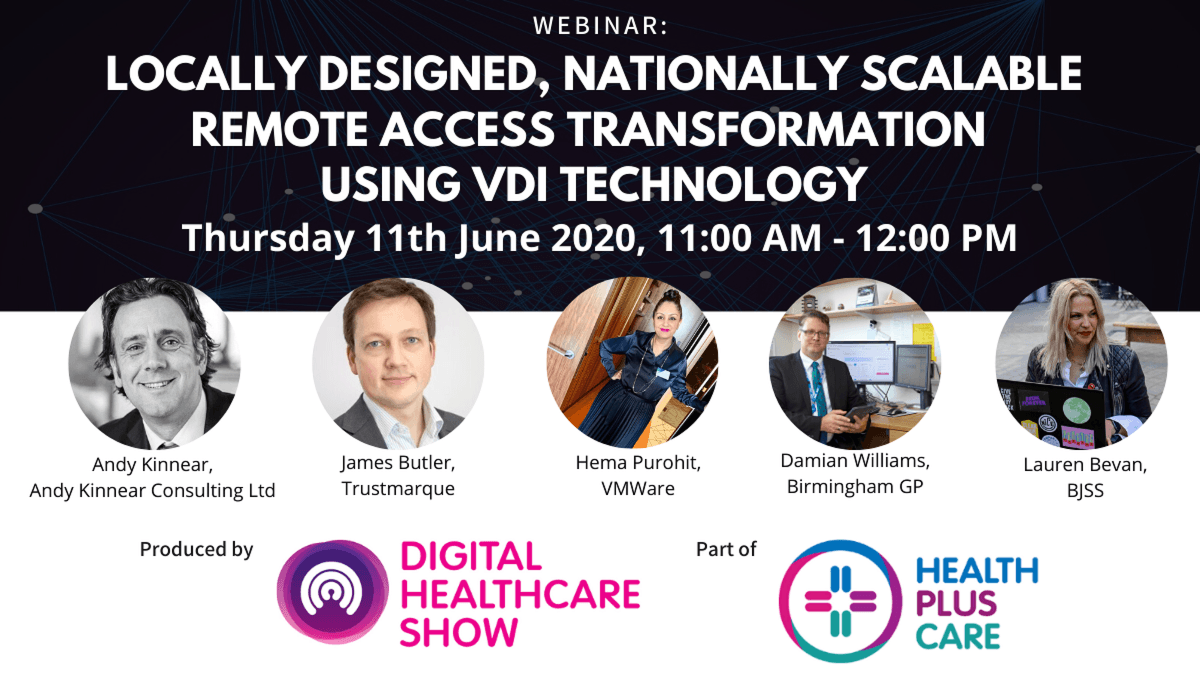 5. Reimagining healthcare: Inspiring The next generation?
Recorded: Thursday 4th June 2020 · 11:00am-12:00pm
Looking at inclusion and diversity within health and social care to look at inspiring the next generation to forge careers in healthtech. This webinar will look at the different perspectives and backgrounds of people who work within healthtech to help shape the future.
Chair: Mala Mawkin - Digital Health Podcast Host at Royal Society of Medicine
The Expert Speakers:
Nicola Haywood Alexander - Certified Health CIO (International), CEng, MBA, Digital Sense-maker, Leader and Strategist
Rachel Murphy - Chief Executive Officer, Difrent Group
Adrian Byrne - CIO at University Hospital Southampton NHS Foundation Trust (UHSFT)
Cleveland Henry - Director of Cloud at UKCloud Health
Nadine Hachach-Haram - Founder & CEO, Proximie
4. Health+Care in the hot seat with Roy Lilley and Guy Gross - "Is Covid moving integration forward"
Recorded: Wednesday 27th May, 11:00am-12:00pm
Join Roy Lilley and Guy Gross as they unearth some of the challenges and solutions to truly making 'integration' a reality.
Roy Lilley, Health Policy Analyst, Writer, Broadcaster and Commentator on the National Health Service and social issues. Formerly the vice-chariman of the West Surrey and North East Hampshire Health Authority and formerly a Conservative member of Surrey Heath Borough Council where he was Mayor in 1988.

Guy Gross, Consultant at LaingBuisson, Healthcare Board IET, Speaker, Advisor, and Influencer in Health, Social Care and technology. Guy is a former doctor and serial entrepreneur who has worked across Social Care from commissioning, provision and supply to helping over 20 companies in wining their earliest contracts with the system.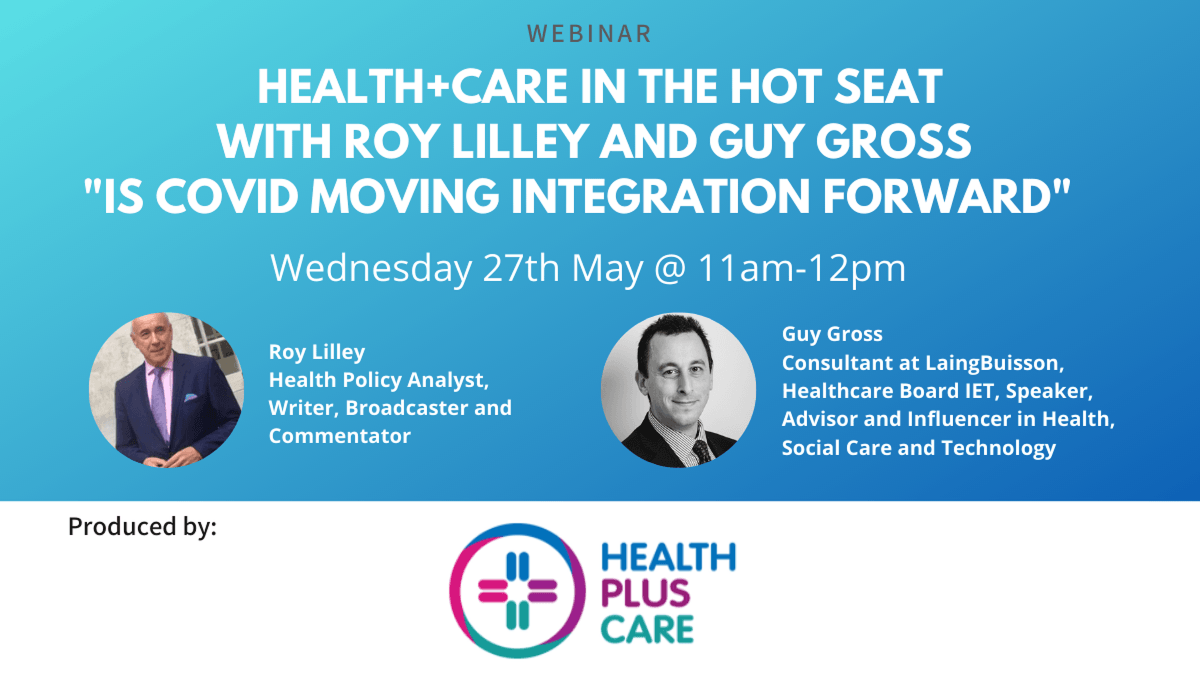 3. Apprenticeships and How they can Support Digital Transformation within Healthcare
Recorded: Wednesday 13th May at 11 AM.
Co-produced with BCS, The Chartered Institute for IT, and hosted by:
Euan Blair, Cofounder & CEO of WhiteHat
Sam Shah, Digital Health Advisor and Clinical Director
Wendy Dearing, FBCs, Fed-IP Leading Practitioner
Annette Allmark, Head of Apprenticeships
This webinar gave key insights into how having a skilled workforce will move forward adoption of technology in healthcare faster. Specifically looking at how apprenticeships, utilised in the right way, can do this.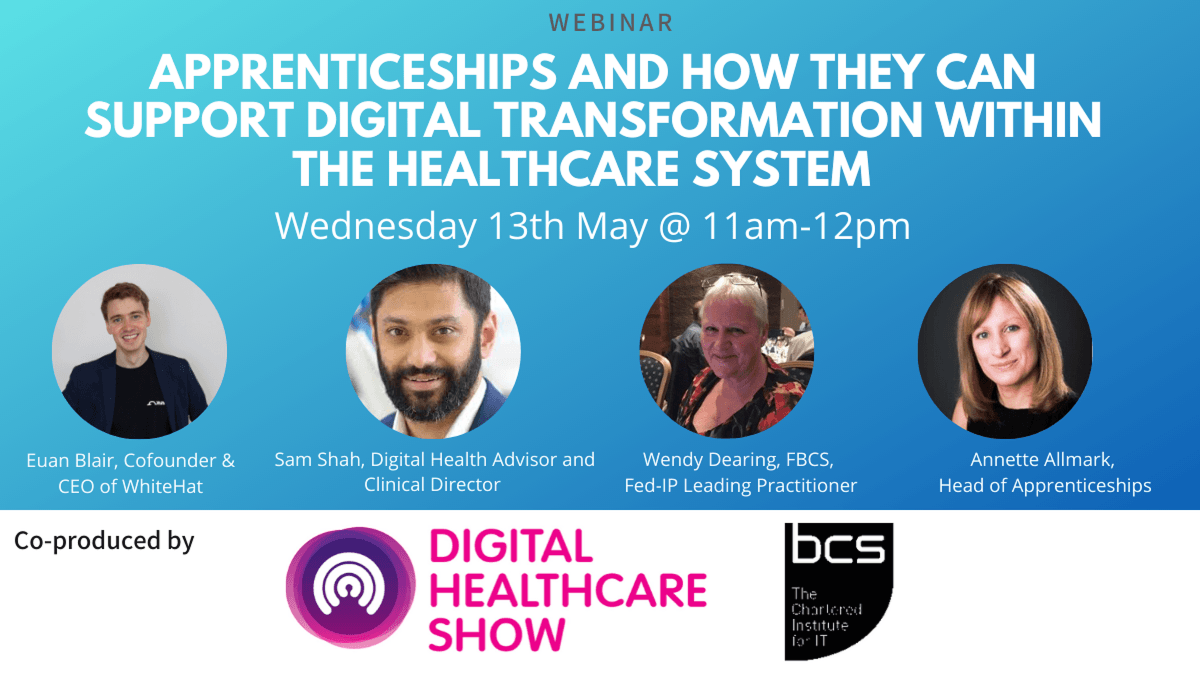 2. Patient Safety: Time for Questions? Non Covid-19 Care and Treatment webinar
Recorded: Wednesday, 6th May 2020 at 11:00 AM.
Produced by Patient Safety Learning and Health+Care, this webinar included a panel of patient safety experts, posing and answering questions relating to patient and staff safety. This included everything from leadership, safety culture, access to safe care, human factors, the challenges to this and innovative solutions including and recommended products/services.
The panellists included:
Professor Maureen Baker CBE, Chair of the Professional Record Standards Body and past Chair of the Royal College of GPs
Dean Russell, MP for Warford & member of Health & Social Care Select Committee
Professor Mike Bewick, Chair of CECOPS and past Deputy Medical Director to Sir Bruce Keogh at NHS England
Dr Jane Carthey, Human Factors and Patient Safety Specialist
Mike Fairbourn, Chair of ABHI Patient Safety Working Group & BD Country General Manager
Claire Cox, Associate Director of Patient Safety Learning and Clinical Care Outreach Sister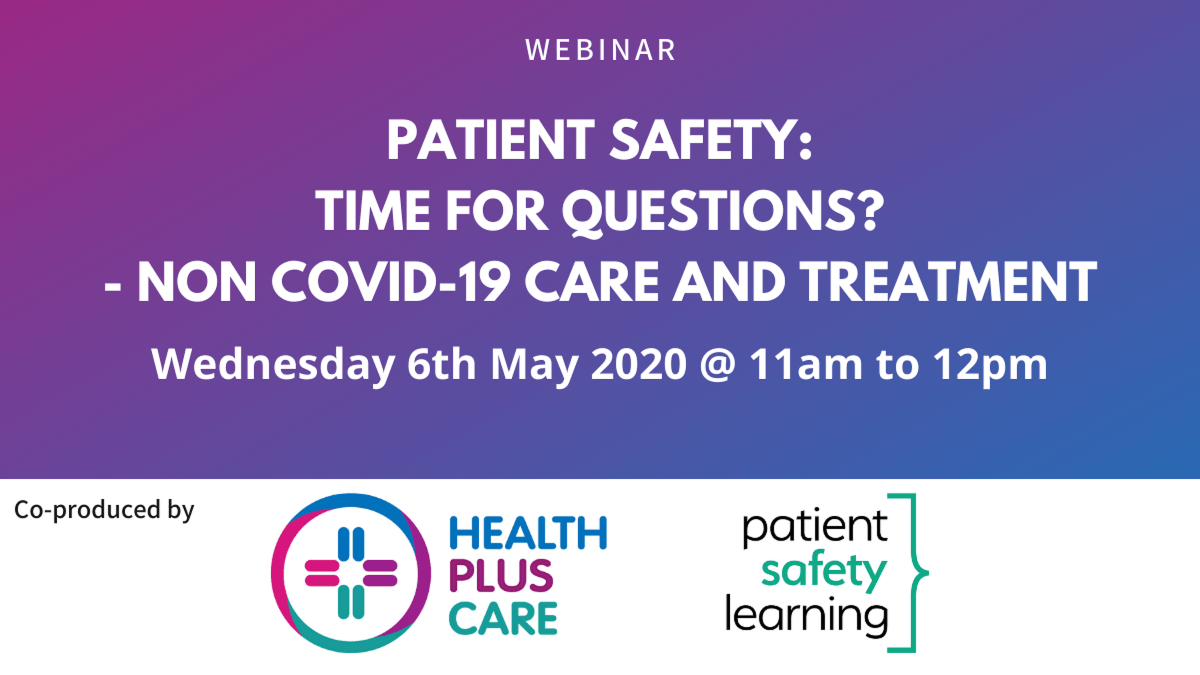 1. What has changed in the world of data and AI in light of the current Coronavirus threat webinar
Recorded: Tuesday, 14th April 2020 at 11:00 AM.
The Digital Healthcare Show, part of Health+Care hosted a free online webinar on, What has changed in the world of data and AI in light of the current Coronavirus threat?
Co-produced with BCS, The Chartered Institute for IT, and hosted by Niamh McKenna, Managing Director, responsible for leading Accenture's Health business in the UK, this webinar will give key insight into how urgent healthcare and public health needs are changing society's outlook on the adoption of AI and the importance of data – and what this means for the future