19 Apr 2022
YOURmeds brings medication management into the 21st Century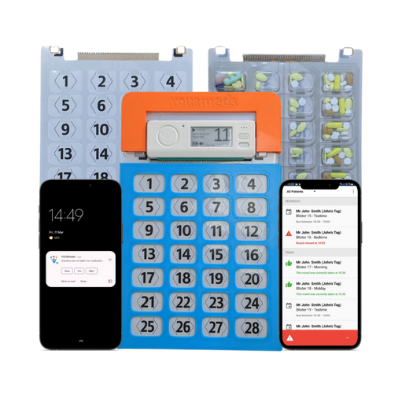 YOURmeds has created a medication management system for the 21st century bringing together mobile technology, the use of a patient's support network and real time data to increase a patient's adherence. YOURmeds consistently achieves adherence of over 80%, even during lockdown.
The World Health Organisation recognises that increasing medication adherence would have a greater impact on health outcomes than any medical advancement. Over 1.5 million people are issued with blister packs every week in the UK to help them manage their medication. How well they take their medicines has been difficult to identify - until now.
YOURmeds has taken the basic community pack and made it smart so that it can communicate with the support network when medication is taken, if it is taken late or early, if medication is missed or if multiple or the wrong medication has been accessed. NICE have issued a Medtech Innovation Briefing (https://www.nice.org.uk/advice/mib289) around the YOURmeds system stating YOURmeds is the "first digital medication dosage system that allows real-time monitoring of medication adherence."
Over the last 16 months, YOURmeds has increased the number of councils they are working with from 2 to 14, with the technology used within reablement, supporting hospital discharge and within domiciliary care to increase capacity in the system. The use of the "free" social network around a user is another unique feature; the pandemic has shown that communities are happy to support an individual. YOURmeds, through the supporter app, enables the network (chosen by the user) to nudge changes in behaviour. "We know that 1 in 4 of our adherent rounds is due to a supporter nudge" says Nitin Parekh, Director and Co-Founder of YOURmeds.
Historically pharmacies have been reluctant to engage with medication dispensing systems but YOURmeds has been designed to work within pharmacy workflow as the process is similar to creating the standard community packs already being issued. YOURmeds can also be fulfilled through pharmacy robots allowing scale to be achieved.
"One of the issues we had with our YOURmeds Assist pack was the requirement for a weekly prescription. The new YOURmeds Switch allows us to offer medication support irrespective of the length of the prescription; this flexibility facilitates a smooth process between primary cared and social services. The packs are sent out in the usual way by Pharmacies and swapping them over is easy for the user or their network'' explains Nitin Parekh
Joining up the thinking around health and social care provides a huge opportunity to look at how the £9.8 billion spent on medication in the community can be better managed. If you'd like to join the YOURmeds revolution, please get in touch at hello@yourmeds.net.