29 Apr 2022
Home Care Awards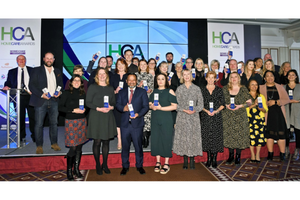 After the Adrenalin Rush …
The Home Care Awards took place on April Fool's Day, but no one rushed in, as the Awards reception, lunch and ceremony started after 12 noon. So, there were no fools in the reception, but there were plenty of angels, who were attending as Finalists of the Awards having proved their worth in the judging.
Photographs, of what was a very happy event at the National Conference Centre, Bickenhill B92 0EJ, can be found via this link. And access to the Winners book can be gained by clicking on the thumbnail image of the cover on the Awards website Home page.
Work has already started on the 2023 Awards, which re-open for entries from September 1 and close on November 30, as usual. A new category has been added – for Nutrition and hydration expertise – and there are now four Gold awards. The revised list can be found on the Categories page of the Home Care Awards website.
There is increased interest in sponsorship for the 2023 Awards and if that is of interest to your organisation, please drop a line to Matt MacNamara, development director at the Home Care Awards.
The next celebration of Finalists, High Commendations and glorious Winners of the Home Care Awards is scheduled to take place on April 27, 2023 in the Platinum Suite at ExCeL London, so please make a note on your calendars.
~ENDS~
Contact details:
Matt MacNamara, development director, Home Care Awards
Olivia McKelvie, events co-ordinator, Home Care Awards
Telephone: 0330 635 5005 (UK local call rate)
Website: https://homecareawards.com