29 Apr 2022
New research from Log my Care reveals the sentiment in the social care sector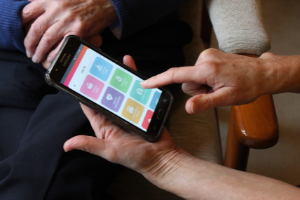 Prompted by the media reports of a sector in the throes of a staff recruitment and retention crisis, Log my Care surveyed approximately 300 care staff to understand the sentiment in the sector, why so many people are leaving and what place technology has in supporting them to stay.
This staffing predicament poses a huge threat to the future of social care. As the recruitment and retention crisis increases so does the demand for services from an ageing population. With a large exodus of care workers leaving the sector seemingly on the horizon, we need to understand the factors that motivate them to join the sector, what's driving them away and what employers can focus on to ensure their staff stay.
Low pay, long hours and a lack of employee development come up time and time again as the reasons care staff are leaving. Could technology play a vital role in redefining what it means to work in the sector? The government has committed £150 million to increase care record digitisation from 40% take-up to 80% by March 2024 and research shows that by encouraging even the smallest care provider to go digital, we can begin to combat some of the problems associated with working in the industry. Technology has the ability to transform care for society's most vulnerable people. Not only will it help care providers deliver better person-centred care, it can ensure those working for them feel empowered in their roles and spend more time caring for and connecting with the people they support.
CEO and Founder of Log my Care, Sam Hussain, will be taking over the Technology and Innovation Theatre at The Residential & Home Care Show at 2.15pm on 19th May. His talk, 'Will Social Care Sink or Swim?', will share insights from Log my Care's recent research examining the sentiment of the care workforce, employee wellbeing in the sector and the role of technology in boosting staff retention.
Sam founded Log my Care in 2017 in response to the growing pressure on the UK care sector. Not wanting to add a lengthy onboarding process to care providers' busy schedules, Sam designed a platform so easy to use that it would be up and running in 30 minutes. Log my Care helps care providers get time back, save money, deliver person-centred care, easily create reports and keep their data safe. Drop by stand E46 at the Residential and Home Care show to demo Log my Care's platform for outstanding care management.