29 Apr 2022
OneTouch: The power to care – all in one place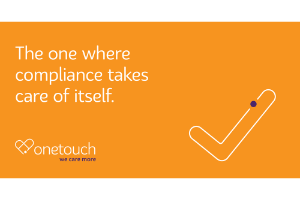 OneTouch is the only authentic all-in-one care platform, giving healthcare providers their daily client and staff management needs in one place, on one easy-to-use connected platform proven in all care settings.
Experience OneTouch for yourself at stand D65.
Created by OneTouch Health, the multi-function Care Management System, allows care providers to manage every aspect of their clients' needs. Continually developed to meet changing requirements and technologies, OneTouch Health is at the forefront of delivering modern, effective, and efficient ways to deliver improved quality of care across all care settings.
Agincare, Local Solutions, Real Life Options and Creative Support are amongst many prestigious care providers to deploy the single-platform solution.
By sharing relevant information with key people in the care delivery cycle, care providers have the power to manage tasks such as; Care Planning, eMAR, Time and Attendance, Payroll and Invoicing, HR and more, in one place, freeing up precious time to focus on great care.
OneTouch has been built from the very beginning to be a single system, so information is shared simply, without loss or interruption, across all key stakeholders involved in an individual's care delivery. All your reporting, rostering, digital care planning, finance and HR are all connected and accessed with one password, on one platform.
The single ecosystem has grown organically, over eight years of continuous development, into the only authentic singular, multi-functional platform available to the care industry. This means that it has none of the inconsistencies and fragility inherent in 'integrated' platforms, which have often been individually developed by different companies and then bolted together, requiring slow and unreliable data migration between sections of the system.
The efficiency flaws and security vulnerabilities of paper-based processes are not only increasingly evident, but unnecessary risks too. Using OneTouch promotes best practice in data security.
Immediate benefits of taking the single platform approach;
Improved quality of care
No duplication of data
Support for all staff roles across all care settings
Easy accounts and payments, completely removing complex pricing models
Informed family and friends
Compliance standards consistently met
Reliable service continuity. All system updates are instant and 100% accurate
Detailed, single-system reporting
Unrivalled service levels. No need for data migration means no system lag - something all users will enjoy!
One system for all care settings and all your workforce - all in one hand.
OneTouch brings complete digital transformation to your care company, resulting in stronger financial management, higher CQC ratings, overall operational cost savings and business efficiencies.
By seamlessly connecting all parties involved in a client's care, whether administration, carer, client or family member. By putting the carer and the client at the centre of the platform, OneTouch Health always prioritises care delivery.
OneTouch Health
OneTouch Health was established in 2014 and has grown to become the market-leading provider of care management solutions in Ireland, today supplying their platform to almost 50% of the care provider market. OneTouch is available across the UK too.
Dermot Clancy, CEO, OneTouch Health: "We see every day the benefits of our platform and how it provides a positive impact on the care industry, from domiciliary care to complex care. As a team, we are driven to continue to support care providers, carers, and their clients in the supply of an easy-to-use single platform, allowing more time to be spent delivering quality care to those who need it."
OneTouch Health's Sales Director is Manchester-based Phil Holt, who brings with him a wealth of experience providing care management software to care providers and healthcare organisations: "With OneTouch's genuinely ground-breaking product, there is finally a system that gives care providers what they want and need so much - one system that does everything."
Meet Phil, Martin, Linda, and the rest of the team on stand D65.
What our users say…
Business impact
"OneTouch is the way forward for us, and we would highly recommend it to any business that wants a one-stop, easy to navigate system. It is helping us make significant improvements in care planning, rostering and so much more."
Delight your workforce
"It's so easy to use… and so helpful to have everything in one system rather than having to jump back and forth between applications to get information. "
Unrivalled support
"We have been impressed from the very beginning with the team at OneTouch. They were patient and accommodating with our questions and lack of IT knowledge. OneTouch offers so much more than any of its competitors, and more than most separate rostering and care planning systems combined."
If you would like to discuss the single-system approach to care provision, please call us on 0161 509 2309 or email using info@onetouchhealth.net
If you only talk to one care software provider at the show, make sure it's OneTouch Health.